[ad_1]

In our latest Behind The Raise interview we interview Nick Torday, co-founder of Bower Collective, a sustainable consumer technology business dedicated to combatting the global plastic waste crisis. Bower Collective aims to create a more sustainable world by eliminating plastic waste through the delivery of a wide range of award-winning natural household products in BowerPack™, their unique reusable packaging system. Nick discusses their mission-driven approach, the growth they have seen and scale of the investment opportunity, how they have coped with global supply chain challenges and his top tips for raising investment.
Tell us about Bower Collective and how you came up with the idea?
I used to run a tech business that specialised in working with social and environmental impact organisations, like the UN, Greenpeace, WWF, etc – some years ago we did a major campaign on marine plastic waste which ignited my passion in this problem space. 
I then got together with my old friend Marcus, who had recently sold his successful bio-packaging business to a FTSE 100 company and was looking for his next challenge. We both share a passion for purpose-led business and put our heads together to come up with a transformational and scalable business that would directly address the plastic waste crisis. 
That's how Bower Collective came to life in late 2019, with a clear mission to eliminate plastic waste and create a more sustainable world. Bower is a sustainable consumer technology business that delivers a wide range of award-winning natural household products in BowerPack™, our unique reusable packaging system.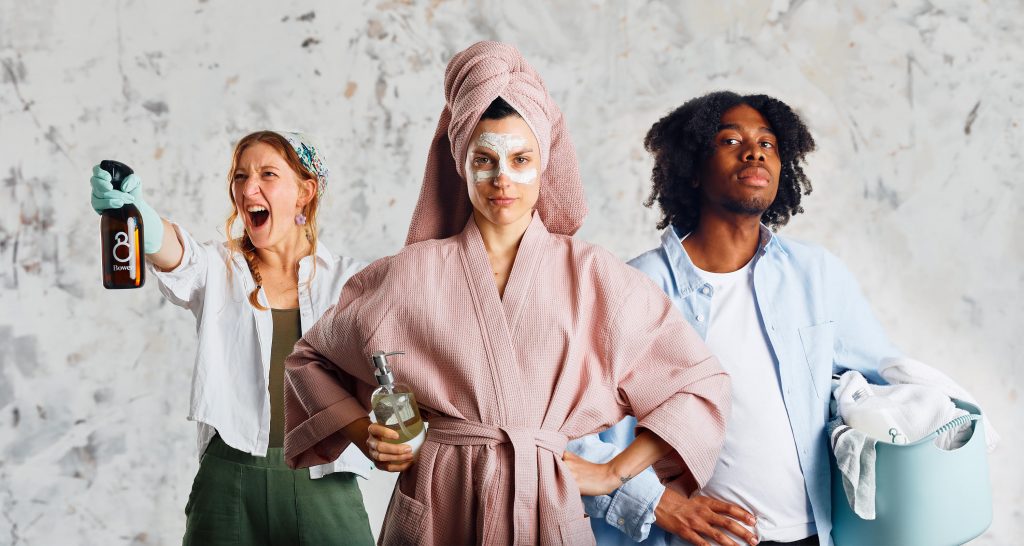 What is the problem you are looking to solve?
The plastic waste crisis is one of the defining environmental challenges of our time. Globally 1 million tonnes a day of plastic waste are generated and the $1 trillion dollar consumer goods industry plays a major part in this and also in global carbon emissions.
We believe there is a better way to provide consumers with everyday products, which is why we are at the forefront of the reuse and refill revolution. Our unique BowerPack™ system is a market leading innovation that has already saved over 44,000kgs of plastic from landfill, incineration and the natural environment. 
With over 95,000 customers and a YOY growth rate of 234%, we've had a fantastic first couple of years in proving that we are delivering an outstanding service and solution to the problem we aimed to address.
What initially attracted investors to your company?
Most of our investors were attracted by our central promise – driving sustainable innovation in the consumer goods category. This is a market which is worth over £155bn in the UK and Europe alone, so the potential for scale and impact at scale is considerable. Also our core model is defensible, it would be very hard for the big CPG businesses to retrofit reusable packaging systems into their huge and complex supply systems. 
The Bower proposition and experience has always resonated strongly with our lead investors and all our angels too, nearly all of whom are also happy customers! 
Finally, as founders we had credible track records within the sustainable business space having between us scaled and exited impact businesses prior to launching Bower. We also have very complementary skills across technology, product and leadership.
What are you looking to do with the investment this time?
This funding round is for two investment areas specifically:
1) to support our expansion into retail and hire in specialist sales / account management leads 2) to double down on our investment into automation of our BowerPack reuse and refill system.
Why did you raise via Angel Investment Network?
We were introduced to AIN through our original pre-seed investors at Founders Factory. We've always believed in a strategic mix of capital between corporate venture, VC and private angel investment. We had a great experience with AIN in a previous round, so have come back to work with them again this time out!
How have you coped with the volatility of global supply chains over the last couple of years?
It's certainly had its challenges, not least when we launched in January 2020 and then covid lockdown hit us barely 2 months later. Two things happened – first, our sales demand exploded, second, our access to product and componentry became a nightmare! Little known fact that 80% of the world's dispenser pumps are manufactured in Northern Italy which was the first region in Europe to lock down, so getting the parts we needed was really tough.
However, we have been relatively well protected as we have a deliberately localised and low carbon supply chain, with over 85% of our products manufactured here in the UK, so Brexit and other international freight challenges have had little impact on us thankfully.
What is your top tip for anyone raising investment for the first time?
My top tip is to have complete clarity of message and proposition and to stick to your strategy when speaking with investors. It can be very tempting to keep tweaking and adjusting your thinking and message based on feedback – if you stay true to your vision it will be much more effective. Remember that you will get rejection, that is part of the process, but you have to stick to your core mission and vision principles to win through.
What additional factors do impact-led startups need to be aware of when fund raising?
There are two areas to consider. One – you have to ensure you are speaking with the right investors, if they are vaguely interested in ESG as a box-ticking exercise, is their passion for your purpose really there? Two, credibility – we are a fully certified B Corp and Certified Carbon Neutral – it is a lot of hard work to achieve and maintain these certifications, you need to be transparent and effective at communicating your impact.
If you're looking for an angel investor to help fund your business, then the Angel Investment Network can help. Sign up to pitch your business to investors all over the world 
[ad_2]

Source link