[ad_1]

Founded in 2021 by Gagandeep Reehal and Gursimran Kalra, Minus Zero claims to be the first Indian startup to launch a fully autonomous vehicle in the country with its nature-inspired AI tech
Minus Zero's zPod is one of the few fully autonomous vehicles worldwide that can run with only camera sensors, eliminating the need for expensive tech like LiDARs
The startup is doing extensive pilots in partnership with various industry stakeholders like sensor companies, chip makers, OEMs, and the government
Ever since the rise in the production of cars in the 1920s, the global automotive industry has been obsessed with plying driverless four-wheelers on roads. Although we have instances in the past of many automotive players using radio waves to make cars go driverless, the tech couldn't be made road legal due to reasons galore.
As the tide of time rolled on, multiple levels of automation unravelled on the back of the involvement of core technology players and extensive research and development in the field. Subsequently, various levels of automation were reached, and today, many countries across the globe gloat over having level 5 autonomous tech, paving the way for a future embracing truly unmanned cars. 
Although the industry initially witnessed a lot of scepticism and regulatory hurdles, even a century after reinventing the wheel, quite literally, the ecosystem around complete driverless cars has now started to mature at a break-neck speed. 
Trying to reap the benefits of this very evolution and maturity, Bengaluru-based startup Minus Zero has developed nature-inspired AI (NIA) tech, which can run fully autonomous vehicles with only camera sensors. 
Founded in 2021 by two undergraduate students, Gagandeep Reehal and Gursimran Kalra, Minus Zero claims to be the first Indian startup to launch a fully autonomous vehicle in the country with its in-house AI solution.
Notably, in India, the Motor Vehicles Act, 1988, does not have a provision that allows the licensing of autonomous vehicles or makes such vehicles legal to ply on Indian roads.  
Even as countries like the US, Japan, and Germany, to name a few, have progressed significantly in building regulations to support advanced levels of vehicle autonomy, India is far behind in the race to build a robust infrastructure that can support a higher grade of autonomy. 
Today, the most state-of-the-art cars that can be seen on Indian roads have either level 1 or level 2 Advanced Driver Assistance Systems (ADAS) capabilities. 
Amid the regulatory hiccups, one may ask, what opportunities does a two-year-old startup have? Well, according to a Statista report, the fully automated cars market in the world is expected to grow to $13.7 Bn by 2030, and this is where the founders see a promising future for their venture.
How Is Minus Zero Reinventing The Wheel?
The core motive behind building Minus Zero was to re-think the way the world has perceived and developed AI algorithms so far and to take inspiration and mechanisms from the nature and human brain to build AI solutions to solve different problems.
As its first use case, Reehal and Kalra saw a huge opportunity in enhancing the tech behind autonomous vehicles by using their in-house technology. In fact, the founders believe that autonomous driving has always been an AI problem, not an automotive one.

Before delving deeper into understating how Minus Zero's AI works, it is imperative to understand that there are six levels of driving automation, ranging from level 0, which is fully manual, to level 5, which is fully autonomous. Level 5 cars are truly autonomous and can operate without a steering wheel.
While players such as Tesla, Alphabet's Waymo, Mercedes-Benz, and General Motors have progressed a great deal in building autonomous capabilities, most of their vehicles running on roads today are only ADAS-enabled. Though there are a few fully autonomous vehicles, with more set to launch, these OEMs use multiple equipment like LiDARs, radar, and cameras to run their respective autonomous vehicles.
This makes Minus Zero's zPod one of the few autonomous vehicles worldwide that can run without human intervention with only camera sensors, thereby eliminating the need for expensive sensors or technologies such as LiDARs and high-definition (HD) maps.
In its whitepaper on nature-inspired AI, Minus Zero states that while numerous companies are working on autonomous vehicles, most are pursuing iterative variations of the robotics paradigm, which relies on the neural network-based understanding of the environment, combined with HD map localisation. 
Generic autonomous driving neural networks are trained using billions of images to detect and identify drivable areas, road actors, and other hurdles on a route, enabling the system to reason about their positions and predict their behaviour. This information is then matched in real-time with an HD map of the world to navigate.
"This approach is inherently fragile because it is nearly impossible to have well-representative data of every possible variation of the environments," the startup highlights in its whitepaper.
Besides, LiDARs are costly, making level 5 autonomy unaffordable for the masses. 
"Our foreign counterparts put around 80 sensors on one vehicle because the current AI technology is not capable of functioning like a human brain. This also makes such vehicles very costly," Minus Zero's cofounder and CEO Reehal said. 
Hence, the Minus Zero team had to invent its nature-inspired AI from the ground up. Reehal said that to make the AI take a safe decision, three things need to be handled efficiently – representation, prediction, and adaptation.
"Our nature-inspired AI can predict the behaviour of anything in its surrounding to plan its next move. Also, AI works very differently and does not depend on the traditional way of collecting data. We create our own scenarios and data, using generative AI. With just a minimal amount of data, we could achieve the level of safety and decision-making that even the state-of-the-art systems haven't yet cracked," the CEO said. 
Notably, the startup has received intellectual property rights for one of its techs while patents related to other tech stacks are still a work in progress.
What's The Plan?
Last month, the startup unveiled 'the country's first fully autonomous vehicle, zPod,' in Bengaluru. The vehicle, still in its concept stage, has been designed to showcase the powers of 'True Vision Autonomy', which opens a blank canvas for auto manufacturers.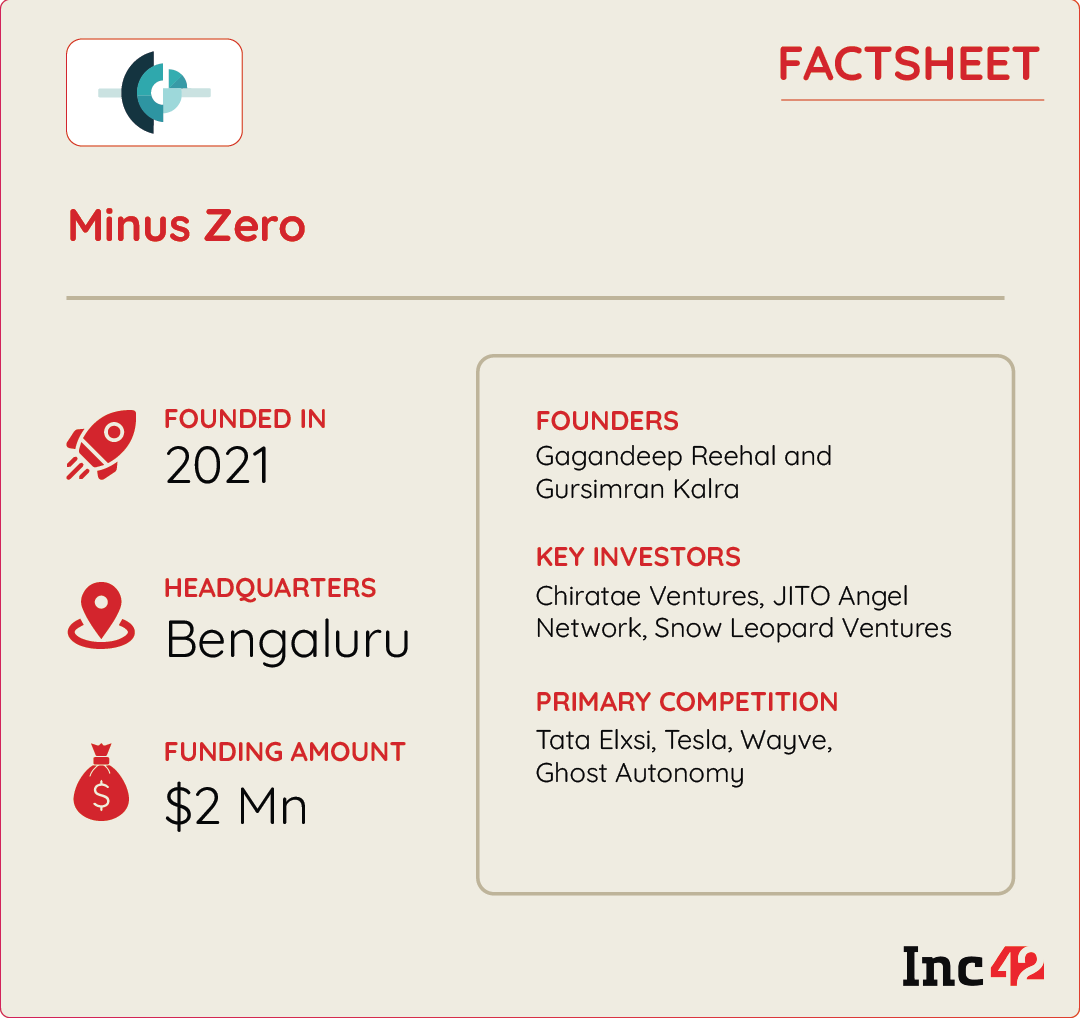 Interestingly, Minus Zero is neither an original equipment manufacturer (OEM) nor does it intend to be one. 
"The purpose of minus zero was never to really build autonomous vehicles. We were always intrigued by how a human brain is able to do a lot of things that current algorithms are not capable of doing. So, that is what nature-inspired AI intends to solve, bridging the gap between algorithms, machines, and the human brain. Mobility is just a use case," says Reehal.
"Minus Zero is building an artificial brain that can go into any next-generation vehicle in any geography to make it fully autonomous," he explains.
Minus Zero has already started seeing a lot of traction from the OEMs and is considering different partnerships to deploy its AI capability. Having achieved autonomy between levels 4 and 5, the startup is on its way to achieving complete autonomy.
To build these capabilities, the startup has raised $2 Mn in two rounds and is backed by the likes of Chiratae Ventures, Snow Leopard Global, JITO Angel Network, and senior executives from companies like NVIDIA and Lyft.
By the end of the current financial year, the startup aims to raise more funding in a Series A round.
Accelerating On The Autonomous Street
Currently, Minus Zero is extensively doing proof of concepts (POCs) and pilots in partnership with various industry stakeholders, including the sensor companies, chip makers, and OEMs, involved in building autonomous vehicles both in India and abroad.
Besides, the startup is also actively working with the Indian government to structure the regulatory part pertaining to autonomous vehicles.
While India has a long way to go in defining and allowing such vehicles on roads, Reehal is of the opinion that before a regulatory framework is built, we, as a country, need to ensure that the right technology, which solves the real pain points of this industry, is in place. 
As of now, Minus Zero is focussed on partnering with countries like Europe, Japan, and the US, which have more mature regulatory frameworks in place.
Currently, there are only a few new-age startups, like UK-based Wayve and US-based Ghost Autonomy, that are trying to crack a similar code as Minus Zero.
However, scaling in this market is still challenging. Last year, Ford and Volkswagen-backed startup Argo AI had to shut shop after almost five years of being in the market and raising $1 Bn in investment.
Amid this, it would be fascinating to witness how Minus Zero moves past the obstacles to emerge as a pioneering name in the global AV space from India.



[ad_2]

Source link