[ad_1]

The AI-powered TestnTrack platform not only checks the answer sheets of students but also provides automated real-time audio feedback
The platform also enables teachers to provide gap analysis reports to students, pinpointing areas where they may be lagging or need a brush-up
TestnTrack has captured the attention of investors at a very opportune time, especially when the test preparation segment is predicted to become a $9 Bn market opportunity by 2030
A few years ago, one of the biggest pet peeves of Vinay Kamal Sharma, the erstwhile zonal head of a Mumbai-based coaching institute JK Classes, was the way students got evaluated on the examinations they took. According to him, just scoring students on what they wrote in their exams or tests did not add any value in terms of enhancing their learning. However, as a teacher, he was also aware of the fact that giving constructive feedback on every answer, written by hundreds of students, was not humanly possible, no matter how brilliant or efficient a person (teacher) is.
With two major pain points at hand — a) providing students with a valuable, insight-oriented analysis of their answer sheets; b) streamlining the marking process to reduce the burden on teachers — Sharma started working on a solution.
To address these challenges, he envisioned a tech platform that could transform the examination landscape for both students and teachers. 
Staying true to his vision, Sharma launched TestnTrack in 2020, a SaaS platform that provides comprehensive end-to-end solutions to coaching centres and teachers. The platform streamlines the entire examination and evaluation process — from curating question papers to generating suggested answers.
While embarking on his entrepreneurial journey, Sharma joined hands with Priya Soni, who was then the cofounder of Examkul, an online examination platform. Interestingly, Soni and Sharma already shared a student-teacher relationship, when the former was aspiring to crack the CS (company secretary) exam. 
Onboarding Soni helped Sharma understand the perspective of students, allowing him to create a solution that caters to all key stakeholders — students, parents and teachers — to achieve the common goal of academic excellence.  
"We strive to make examinations stress-free for all stakeholders while fostering academic growth and success," said Sharma.
The AI-powered TestnTrack platform not only checks the answer sheets of students but also provides automated real-time audio feedback. Additionally, the platform generates a report for students based on their performance, highlighting key areas of improvement.
The platform also enables teachers to provide gap analysis reports to students, pinpointing areas where they may be lagging or need a brush-up. Furthermore, the platform offers parents data-driven insights into the academic progress made by students over time.
To further push the startup's vision, TestnTrack received INR 15 Lakh from the Rajasthan government's iStart programme. It has helped the startup onboard 8K students from 112 institutions across three states and six cities.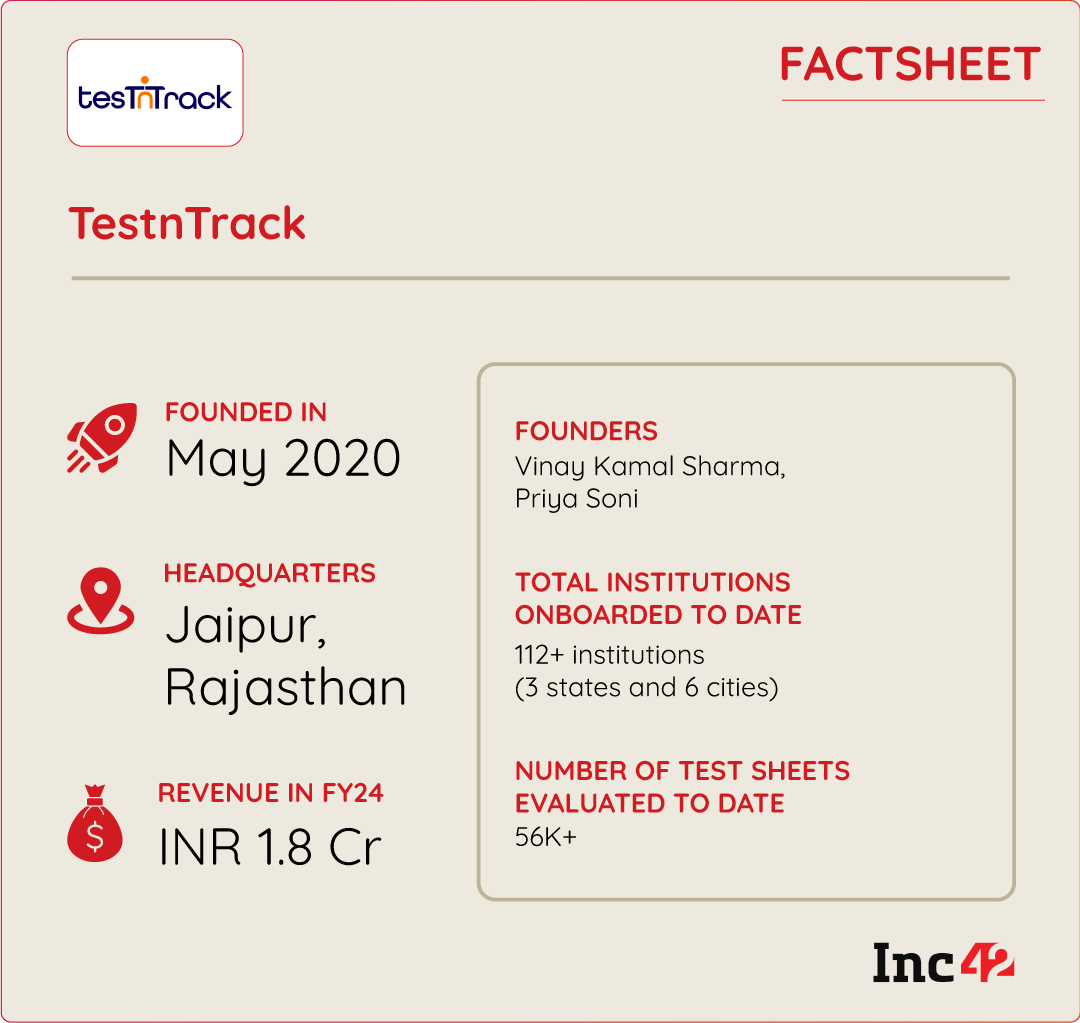 TestnTrack's Growth Story
Sharma's entrepreneurial journey has not been a bed of roses, as he did not have the technical prowess to pursue his mission full throttle. This proved to be a major hurdle for the startup, which could only start its online operations in January this year, despite being founded three years ago.

"Due to a lack of technical skills, we outsourced the work of building the platform to a company, which turned out to be a fraud. It was then we decided to develop the tech in-house," Sharma said.
During this time, the most impacted sector was offline education, even as many edtech startups rose to fame during the pandemic to compensate for offline learning. 
However, as luck would have it, TestnTrack's tech solutions were a work in progress when it was raining the proverbial riches (funding) for many new-age tech startups. But, once the Covid waned, the founders, determined to make up for the lost time, started pitching their solution to coaching centres and ended up onboarding 63 of them as their clients.
The startup has also grown in revenue, it clocked INR 5.4 Lakh in FY22 and aims to generate INR 1.8 Cr in FY24, its ARR is INR 46 Lakh.
What's The Monetisation Plan?
Unlike many startups that deploy social media and brand marketing teams to create brand awareness, TestnTrack has largely relied on reaching out to its potential clients in person. 
Additionally, TestnTrack leverages a community of book publishers in Jaipur, which endorses its product, helping the startup get access to a wider audience. 
"Under our B2C arm, DOT100, which is featured on our website, we hold an exam hunt programme annually to showcase our platform's capabilities. We conduct engaging activities to enhance awareness among our target audience," Sharma said.
Not just this, DOT100, which is a revenue-generating model, offers students and parents free access to basic features like assessing answer sheets under a freemium model. For more advanced features, the tech platform requests users to pay a fee of INR 9 per sheet. The platform also generates ad revenues from DOT100 by displaying the ads of other coaching centres and teachers.
Meanwhile, it offers annual subscription-based services to coaching centres to access its features and tools, such as customisable assessments, tracking and analytics, reports and other educational management functionalities. 
What's At The Core Of TestnTrack
TestnTrack onboards coaching classes and individual teachers with a unique institute code generated by the platform. Following this, separate batches are created to register students. Institutes can access custom test papers for specific subjects or chapters with a single click. 
The startup also assigns two relationship managers to every coaching class for round-the-clock assistance via WhatsApp. These managers promptly resolve queries related to papers or results within five minutes, thereby enhancing user experience.
TestnTrack's AI-enabled exam paper creator customises a personalised exam paper with an answer key to the questions. Teachers can conduct exams at will and provide personalised feedback. The automated audio feedback gives timely insights into students' performance.
This helps in identifying knowledge gaps of students in specific subjects, allowing teachers to work on students' weaknesses by creating micro-study plans. Students can also leverage the audio feedback system for self-learning.
TestnTrack handles subjective and objective exams. For subjective exams, digital copies of the answer sheets are available on Testntrack's Market place made for evaluators. Around 1,180 evaluators are associated with the startup for assessment. 
"Students' progress reports and answer sheets are shared in a PDF format to their parents' WhatsApp numbers," Sharma said.
The startup implements client feedback to upgrade its tech. "Our one-on-one interactions with clients enable us to deeply understand their upcoming challenges and obstacles, allowing us to provide effective and tailored solutions," Sharma said.
The approach of giving personal attention has helped the startup achieve a 96% client retention rate and a 70% conversion rate in the past six months of operation.
Sharma said that through its diverse revenue channels, the startup has demonstrated its ability to adapt to market demands and generate sustainable income while catering to B2B and B2C segments.
How TestnTrack Is Empowering Tier II and III Cities
According to Sharma, today, Tier II and III cities require edtech solutions more than Tier I regions of the country. Students and teachers in these areas (Tier II, III and beyond) have immense potential but lack the necessary tech to harness it. 
He added that with the increasing interest of Tier 1 edtech SaaS startups in Tier II and III educational institutions, it is getting challenging for the local players to establish themselves in the market and compete with them.
"Fortunately, we have the support of the Rajasthan government, and the state's iStart initiative helps us stay ahead of the competition curve," Sharma said.
He added that ever since the startup registered itself under the iStart initiative, the startup has grown by leaps and bounds. For instance, the startup emerged as one of the top six startups selected in the Global Startup Challenge that was held in Jaipur in December 2022. The founders showcased their project to international investors like TiE SoCal through this opportunity. 
Not just this, TestnTrack was selected as one of the top five startups in the Rajasthan Startup Challenge in January 2023, which helped it create its brand visibility in the edtech ecosystem. 
"Since we are a registered startup with the government's accelerator iStart, we received INR 15 Lakh from the state government, enabling us to grow our business," Sharma said. Additionally, the startup also receives time-to-time guidance and mentorship from industry experts.
"These initiatives have helped us increase our user base 7X from 1100 students to 8,000-plus students in  6 months. This indicated the adoption of our tech by coaching centres," said Sharma.
The Road Ahead
In the next 12 months, the startup aims to expand to 25 cities across six states. It is also looking to grow its user base 8X by penetrating deeper into the Indian edtech market. To achieve this, the founders will raise funding from a prominent angel network in India.
Further, TestnTrack plans to utilise the funding to improve its tech stack. To expand its B2B play by onboarding schools, the startup is looking at upgrading its audio chatbot Nivaa and the audio feedback API.
Sharma believes that the demand for personalised learning in edtech has escalated over the past years, and there has been a noticeable shift from offline to online and now hybrid learning and teaching methods, even in Tier II and III cities. 
According to Sharma, AI-powered SaaS solutions in the edtech space are steadily redefining the sector, especially in Tier II and III cities.
Notably, Edtech SaaS solutions are today addressing the diverse learning needs of students and providing them equal access to high-quality education, with an increasing number of educational institutions using audio chatbots to remove all kinds of learning barriers.
TestnTrack has captured the attention of investors at a very opportune time, especially when it is catering to students across age groups and segments, with the K-12 category alone is anticipated to reach a market size of $15 Bn by 2030 and the test preparation segment is predicted to become a $9 Bn market opportunity by then, according to Inc42's Q1 2023 Edtech Report.


[ad_2]

Source link