[ad_1]

In this ongoing series, we are sharing advice, tips and insights from real entrepreneurs who are out there doing business battle on a daily basis. (Answers have been edited and condensed for clarity.)
Who are you and what's your business?
Serge Sorokko: I've been an art dealer and gallery owner for over 30 years. I currently own a gallery in San Francisco, and recently partnered with Courtney Benham, proprietor of Martin Ray Vineyards, to open a new kind of business in the heart of Napa that, to my surprise, hadn't been done before: a contemporary art gallery with a wine bar inside. The Serge Sorokko Gallery + Martin Ray Tasting Room merges art, wine and design in a totally new way. It features a beautiful indoor-outdoor space designed by award-winning architect Craig Steely and the gallery showcases critically-acclaimed artists such as Donald Sultan, Ross Bleckner, Hunt Slonem, and Isabelle de Borchgrave. My wife Tatiana Sorokko will curate fashion, photography and jewelry exhibitions as well as pop-ups and exclusive collaborations.
What inspired you to create this business?
SS: Our wives, who are very good friends, came up with the initial concept. Both have a shared passion for art and wine, and their aha moment was during a casual conversation, over wine of course, where they realized the two hadn't been truly and equally combined as a business before. Hard Rock Cafe combined food and music in a new way, Planet Hollywood combined food and movies. So why hasn't anyone merged art and wine? When they brought the idea to me and Courtney, it seemed like a no-brainer, and we decided to go for it.
Courtney Benham: For me, it was a big "aha moment" combined with the recognition over time that Napa would be a great location for a satellite tasting room for our wines, especially those that carry the Napa Valley AVA. But as someone who loves collecting and experiencing art, the opportunity for our wines to be experienced inside an art gallery that features some of the best-known artists of our time was a dream come true.
Related: After 20 Years of Working on Broadway, This Husband-Wife Team Launched Their Own Production Company and Beamed-Up Their Dream Show: A Musical Parody of 'Star Trek.'
What was your biggest business challenge and how did you pivot to overcome it?
CB: Finding the right location and space for our joint venture has been the biggest challenge. We looked in St. Helena first thinking that this would be an ideal location but quickly pivoted to downtown Napa when we saw how the city has transformed into an incredible food and wine scene. And then we realized no contemporary art gallery existed there yet. We looked for one and a half years in Napa Valley before we found our existing space. It wasn't easy but it was worth the wait.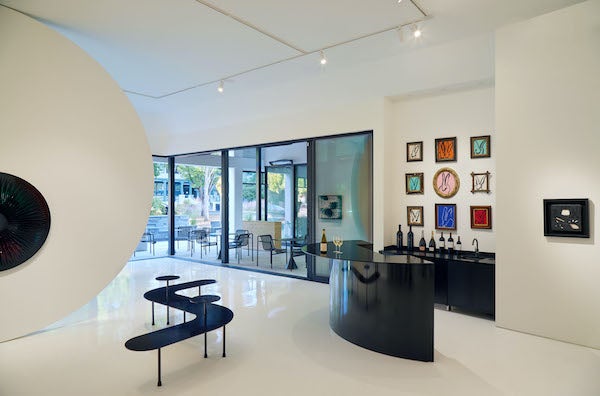 Credit: Bruce Damonte
SS: Luckily, a space opened adjacent to the Andaz Hotel, and we jumped at it. Our next challenge was figuring out how to create an experience via the design of the interior that represented our shared values and vision while celebrating our unique industries – art and wine. Instead of going back and forth, we decided to give full creative freedom to an architect we both knew and respected, Craig Steely. His design not only had to merge two separate experiences, but needed to be fresh, exciting, and timeless to speak to a more modern Napa. It had to have a level of quiet sophistication that would never go out of fashion.
What advice would you give to entrepreneurs looking to open a brick-and-mortar business right now?
SS: One of the things I can't stress enough is that you need to be certain your business will have strong support from the city or town before signing a lease. Get that first before moving forward.
CB: Brick and mortar isn't for everyone, as we've seen more clearly over the past few years. So be certain that, if this is the direction you want to go, it makes sense not just for the business you're opening or expanding, but for you as a person. A virtual storefront could be a better way to go for many brands.
Related: It's Never Too Late to Launch Your Dream, Say These Skincare Entrepreneurs
What does the word "entrepreneur" mean to you?
CB: An entrepreneur takes risks and is never complacent. An entrepreneur is driven and ready to swerve. Because consumer preferences change so quickly, an entrepreneur must be willing to adjust the business plan and be able to pivot at even the least optimal time.
SS: An entrepreneur is somebody who is adventurous, courageous, and visionary. But who you surround yourself with is equally as important. You can't be the former without having smart, supportive people by your side that believe in you, make you better and aren't afraid to tell you the truth. An entrepreneur attracts like-minded people who can directly contribute to their success.
Related: How the Founders of SpaceIt Are Re-Building the Way Real Estate Brokers Do Business
[ad_2]

Source link