[ad_1]

Today, I'm going to show you how to perform a backlink audit in 13 simple steps.
From choosing your tool to identifying spammy backlinks, I've got it all mapped out for you so you'll be able to perform your audit in as little as 30 minutes.
I've successfully helped countless businesses improve their search rankings through effective link building and auditing.
If you want yours to be next, follow these simple steps to improve the quality of your site's traffic and boost your organic rankings.
What Is a Backlink Audit?
First things first, backlinks are links to your site. So, a backlink audit is essentially taking a deep dive into all the links pointing toward your pages from other sites.
In this audit, you'll:
See which sites you have backlinks from
Discover which pages on your site have the most backlinks
Identify harmful backlinks
Find new link building opportunities
Make a plan to banish bad backlinks
Why Perform a Backlink Audit?
A backlink audit is an essential part of your off-page SEO efforts.
Without one, you could have a TON of harmful backlinks destroying your site's credibility.
Think about all that effort you put into your on-page SEO going to waste.
It doesn't bear thinking about, right?
Maintain a Healthy Backlink Profile
Regularly doing a backlink analysis will help you maintain a healthy backlink profile, as you'll be able to identify and remove any harmful links quickly.
Even if you didn't buy a bunch of PBN backlinks, you might be surprised to discover you've gained them unintentionally.
Google takes link spam VERY seriously, so if you want to avoid the dreaded manual action, get rid of those links pronto.
Seriously, neglecting to keep tabs on your backlink profile can have disastrous consequences for your site's rankings.
Failing to detect a negative SEO attack (I'll tell you more about this later) could have your site dropping down the SERPs faster than you can say 'backlink audit'.
Monitor Your Progress
Noting the results of your audit before a link building campaign will allow you to benchmark your progress, track your campaign's success, and monitor how your backlink profile changes over time.
So, if your link building strategy hasn't been getting you the results you wanted (or even if it has), a backlink audit will identify areas for improvement in your strategy.
During your backlink audit, you might uncover opportunities to create new pages to build backlinks to, or find ways to improve your current pages to boost their linkability. How?
You'll often find pages on your site that have naturally gained lots of backlinks. By examining these pages, you can identify strategies or elements you can implement on other pages to increase their likelihood of being linked to.
Having a previous audit to refer back to will allow you to track how many new backlinks and referring domains you've gained (or lost) and if your backlink profile is looking healthier than it was during your last audit.
During the audit, you'll be able to compare your Toxicity Score to how it was before—if it has gone up, you might need to take action.
Similarly, if you notice you have thousands more backlinks than you did before, you'll need to check them to ensure they're not spammy.
When You Buy a New Site
When you acquire a new site, I'd suggest you do a backlink audit straight away, so you know what you're working with.
After all, attempts to improve the site's rankings will often be in vain if it has a terrible backlink profile full of 301s, PBNs and spammy links.
(Unless you're working with a site in a VERY uncompetitive niche, then you might have a chance of scoring some decent rankings with a poor backlink profile).
To check a newly-acquired site (or indeed any site you're working with) for 301 redirect issues like chains and loops, you can use Semrush's Site Audit tool.
First, create a project and add the domain you wish to check. Once the audit has run, go to the Issues tab and search for "redirect chain". If there are any, you'll see them here: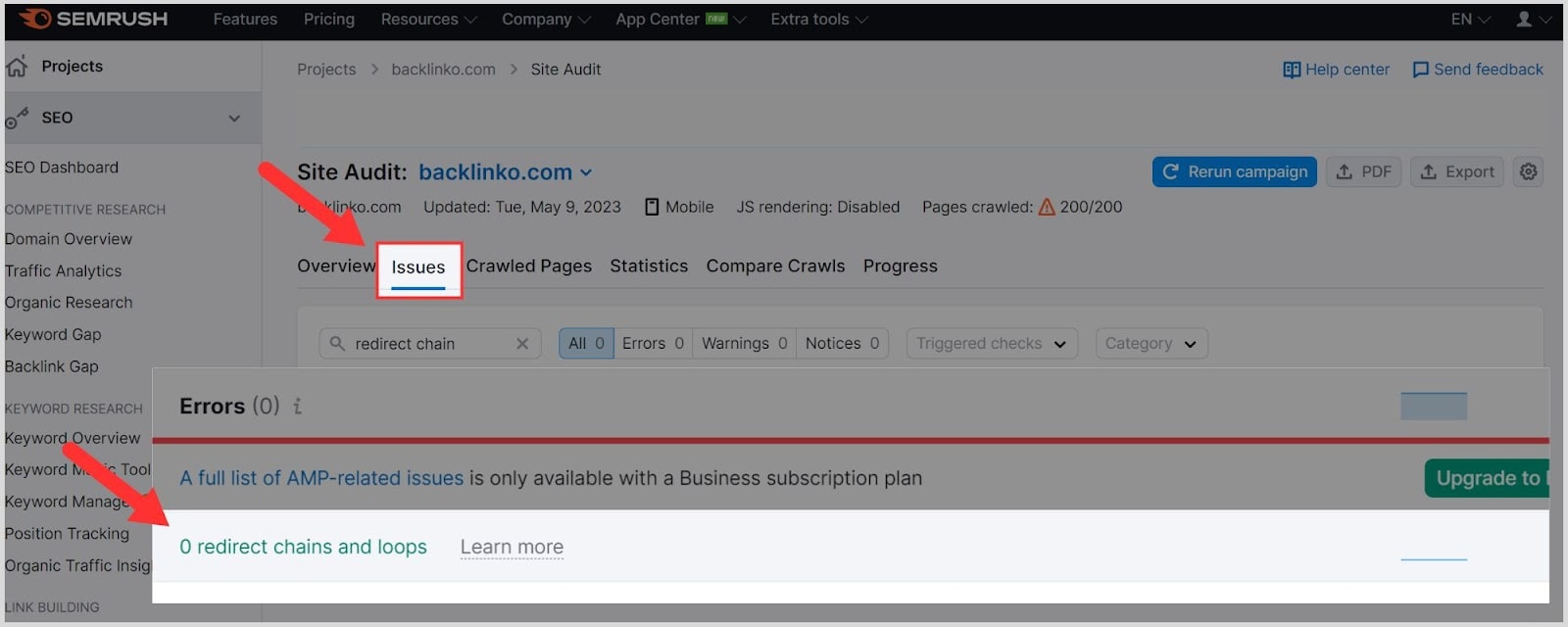 Thankfully there aren't any of these issues on my site!
Keep an Eye on Your Competitors
You'll also be able to keep tabs on your competitors by doing a regular backlink audit.
As with all things SEO, you always need to be one step ahead of the game to win when building (and removing) backlinks.
So how can you use the analysis of your competitors' backlink profiles to your advantage?
If you see that your competitor has a new page with 100 backlinks, there must be something about this content that people love.
So, have a deep dive into your competitor's article, create a better piece of content on the same topic, and watch as the backlinks come rolling in.
Very cool.
You'll also take a look at your competitors' velocity (how fast they're acquiring backlinks) during your audit. This gives you an idea of how quickly you'll have to build backlinks if you want to stay ahead.
Find New Link Building Opportunities
Finally, by performing a backlink audit, you'll be able to improve your site's SEO performance by looking for new link building opportunities.
How?
By checking how many backlinks each page on your site has, you'll identify which pages are lacking links. Then, you'll know where to focus your link building efforts.
How to Perform a Backlink Audit in 13 Steps
Getting started with a backlink audit might sound overwhelming, but don't worry.
I've broken it down into 13 simple steps that even beginner SEOs and link builders will be able to follow.
Let's get to it.
Step 1: Choose a Backlink Audit Tool
There are heaps of both free and paid options, and choosing the right backlink audit tool will save you hours of headaches.
Now, you could go out and pull a list of your backlinks manually from Google Search Console and review them that way, but this will be a VERY time-consuming process.
Instead, a paid SEO tool will make your life MUCH easier by giving you valuable insights and metrics that aren't available on Google Search Console. (But you'll still need to use Google Search Console to disavow links, if necessary).
Popular backlink audit tools include Moz, Majestic SEO, and Ahrefs, so feel free to use one of these if you already have a subscription.
However, I prefer using Semrush for a complete link audit, and it's the tool I'm going to use in this post to show you how you can perform a similar audit.
Semrush has a whole range of link building tools, but for this guide, we'll mainly be using the Backlink Audit tool (not surprising).
Here's what I love about Semrush's link building tools:
Features & metrics:
Backlink profile toxicity score
Number of referring domains
Authority Score (for your site AND your referring domains)
Referring domains' categories
Top anchor texts
Anchor text types
Top target pages
Ratio of nofollow to dofollow backlinks
Ratio of backlinks by type (text, image, frame, and form)
As you can see, Semrush offers you A LOT more than Google Search Console. And, it's all presented on one easy-to-understand dashboard. (With more in-depth information available through the different tabs).
Pros:
Data: The sheer amount of link data you get with Semrush will make the auditing process a whole lot easier than with tools like Google Search Console and Google Analytics. With Semrush's insights, you'll be able to take a data-driven approach to your next link building campaign.
Authority & Toxicity Score: These metrics will show you in an instant if a backlink is likely to be helping or hurting your site.
Cons:
Cost: Semrush's paid plans start at $119.95 per month at the lower end.
Information overload: Although I love how many insights I can gain from looking at Semrush's Backlink Audit Overview page, newbie website owners might find it a little overwhelming. (Hopefully, my guide below will make things easier for you.)
Step 2: Check the Total Number of Backlinks Pointing to Your Domain
So you've chosen your tool, now it's time to start the audit.
Let's start with the basics: the total number of backlinks your site has.
It's exactly what it sounds like—the overall number of links pointing to your pages (including individual links from domains you have multiple links coming from.)
Nice and simple.
While this is a good place to start assessing your backlink profile, it's not as valuable as it might first seem.
Here's why.
First, it doesn't tell you anything about the quality of your backlinks. (I'll show you how to figure that out later.)
Second, what you think is a great number of backlinks might not actually be enough to compete in your niche.
However, it's still worth keeping an eye on this metric. If you notice a sudden spike (or indeed a sudden dip) in your total number of backlinks, it could be a sign of a negative SEO attack. (Skip down to Step 12 to learn more about these).
To find your total number of backlinks, all you have to do is plug your domain into Semrush's Backlink Audit tool: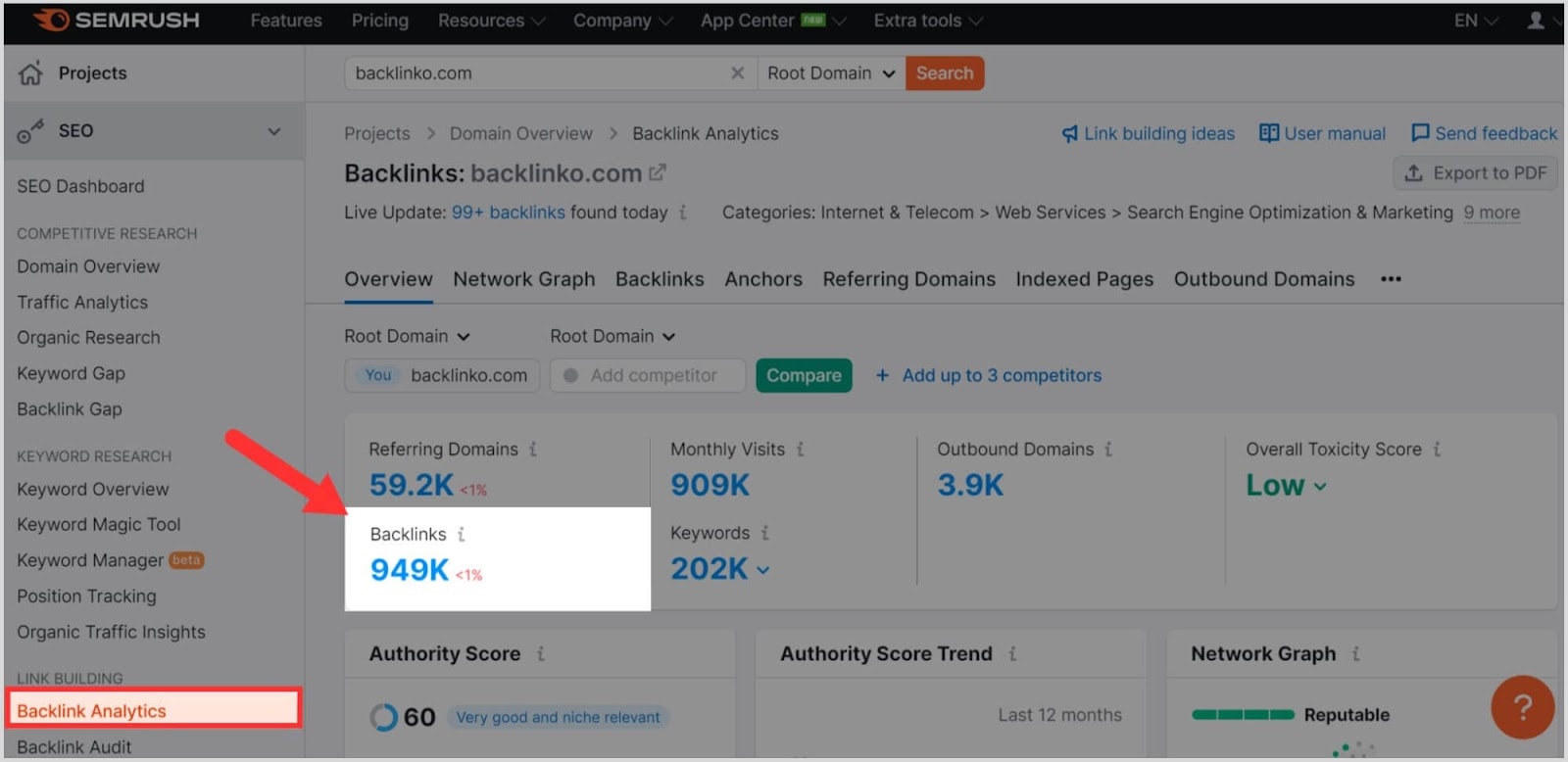 As you can see, I've got 949k backlinks in total. (Pretty impressive at first glance).
But checking one of my main competitors, Yoast, I can see they have 14.3 MILLION backlinks: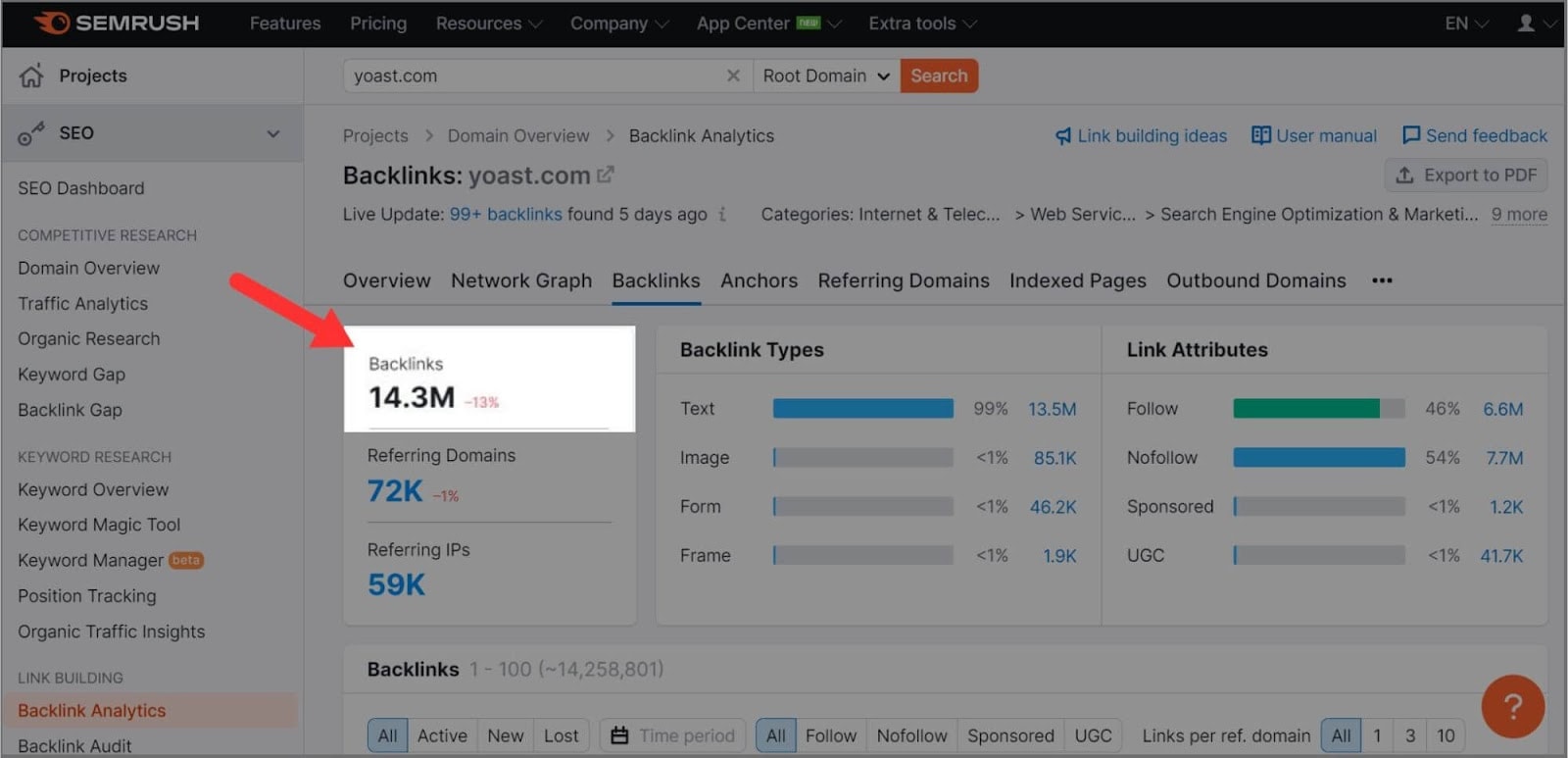 Sounds like I need to catch up, right?
Not quite.
While the total number of backlinks isn't really valuable alone (apart from monitoring for potential negative SEO attacks), it does become slightly more valuable when you start benchmarking your site against your competitors.
But again, being competitive doesn't just come down to the overall volume of backlinks. I'm definitely not going to try and catch up to Yoast's 14 million+ backlinks.
There's SO much more you need to consider (I'll show you more in the Backlink Gap Analysis section).
The number of referring domains is MUCH more valuable than the overall number of backlinks. Looking again at the two examples above, you'll see my competitor Yoast only has around 12,000 more than me.
This is much less alarming than the 13.4 million backlinks ahead of me they are!
And, we haven't even considered the quality of the backlinks and the referring domains yet.
While you can't quite uncover the quality of the backlinks at this stage, I do like the tool's Overall Toxicity Score metric: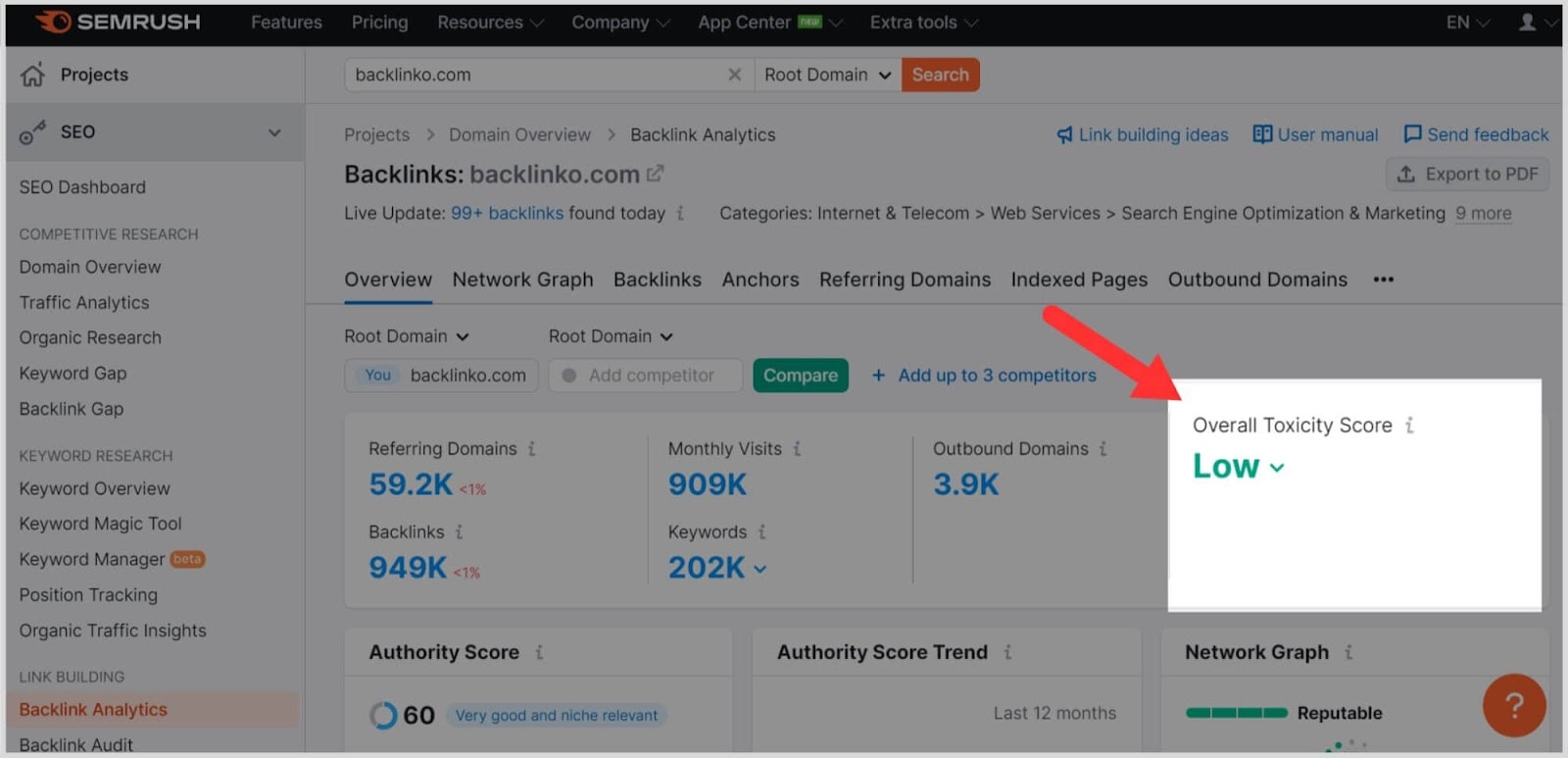 Semrush calculates this score based on the percentage of backlinks you have from potentially toxic domains vs non-toxic domains.
According to Semrush, "the overall Toxicity Score will be High if there are more than 10% of toxic backlinks, Medium if the percentage is 3-9%, and Low if it is lower than 3%."
That sounds great, but how does it decide what makes a domain 'toxic'?
Well, the key word here is potentially. It's not 100% accurate, but it's a fairly reliable indicator. Semrush uses 45 Toxic Markers to decide how toxic a domain is, including:
Signs of link networks
Signs of community spam
Manipulative links (like directory sites)
And much more
We'll get into more detail on identifying potentially harmful backlinks later, but for now, it's nice having your score at a glance.
The final thing you'll want to look at on this page is your Authority Score: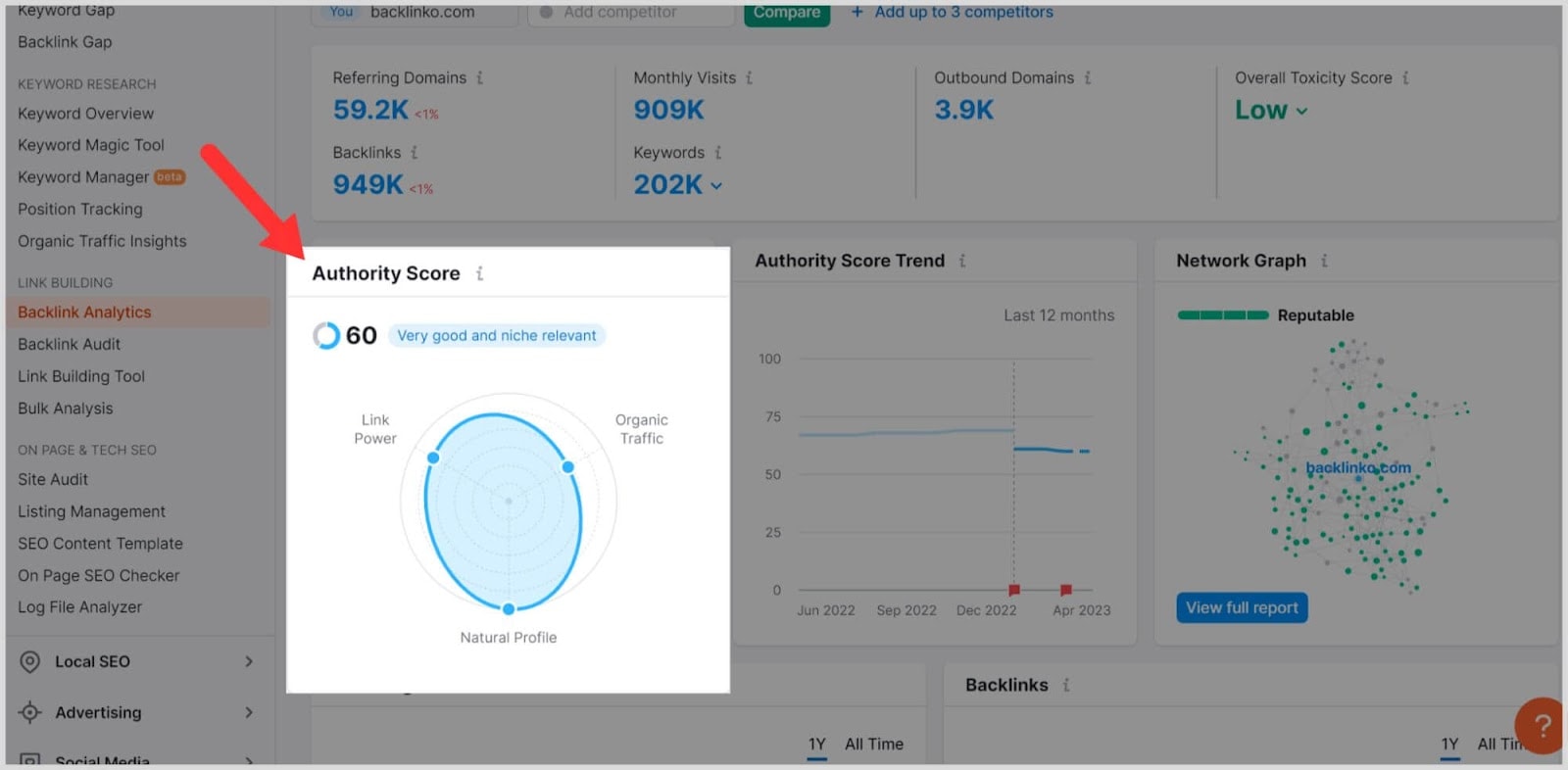 As you can see, I have a "Very good and niche-relevant" Authority Score of 60.
I like the sound of that, but what does it really mean?
Like the Toxicity Score, a lot goes into this calculation. Essentially, it boils down to three things:
Organic Traffic: The estimated monthly average traffic volume.
Natural Profile: Signs of spam or manipulation in the domain's backlink profile.
Link Power: Both the quantity AND the quality of backlinks the site has.
What I love about this metric is that it's great for determining how valuable a new backlink could be to your site: It's not just useful for keeping an eye on your own score.
So have a look at a domain's Authority Score before reaching out to them for a backlink.
The Authority Score labels range from 'low authority' to 'industry leader.' So a backlink from a low authority site won't do much to help your site, whereas an "industry leader"'s backlink should give it a nice boost in rankings.
Step 3: Identify your Referring Domains and Unique Domains
As I said earlier, the number of referring domains your site has is where things really start to get interesting.
The referring domains metric differs from the overall number of backlinks in that it's the total number of domains that your site has backlinks from.
So, for example, let's say you have 10 backlinks from Nerd Wallet and 5 from Investopedia (lucky you).
That means you have 15 total backlinks, but only 2 referring domains—each linking site is only counted once in this metric.
The quickest way to find how many referring domains you have is (perhaps not surprisingly by now) by using Semrush: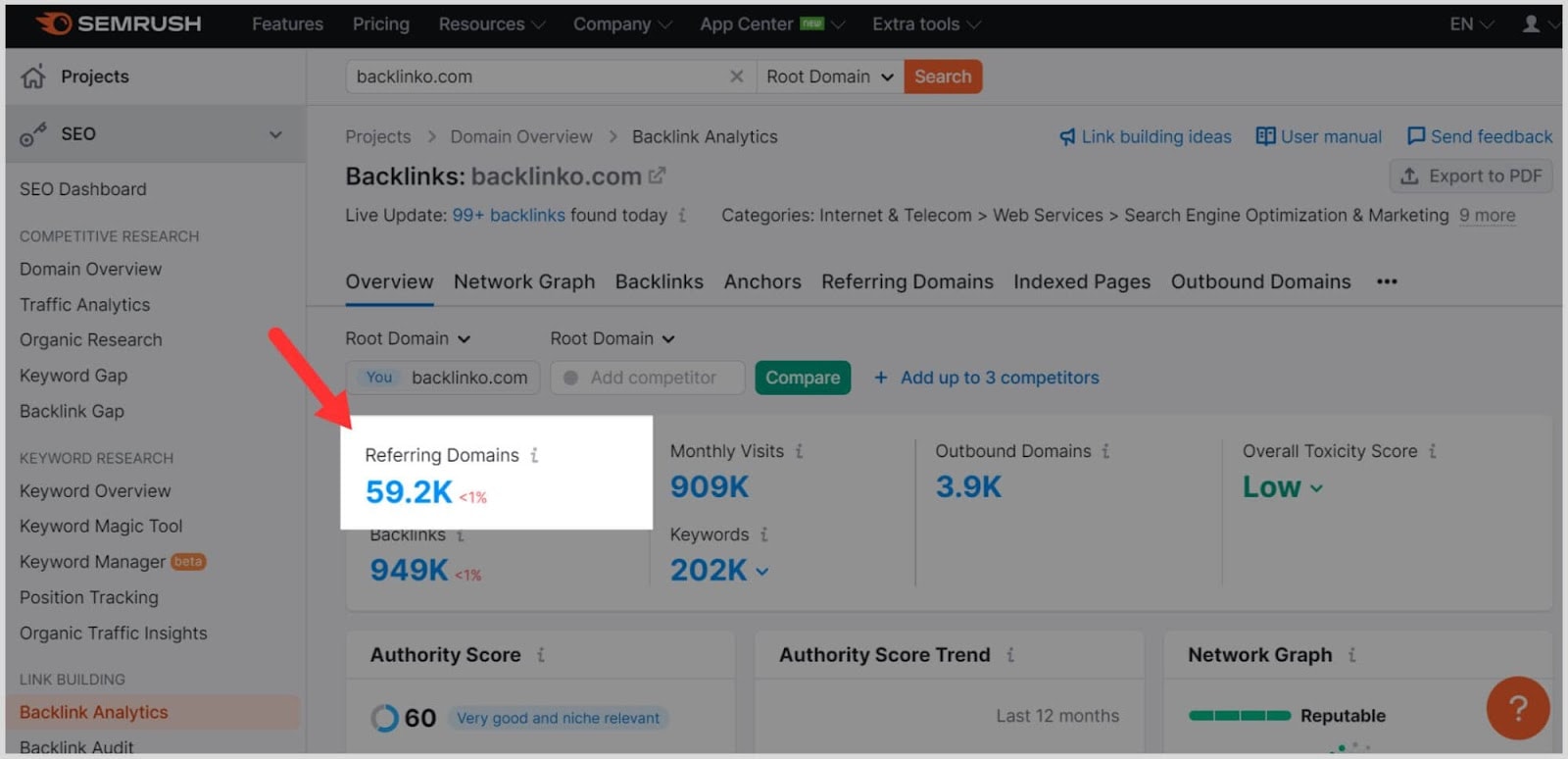 To take things further, click on the Referring Domains tab, and you'll see how many new referring domains you gained (and lost) each week: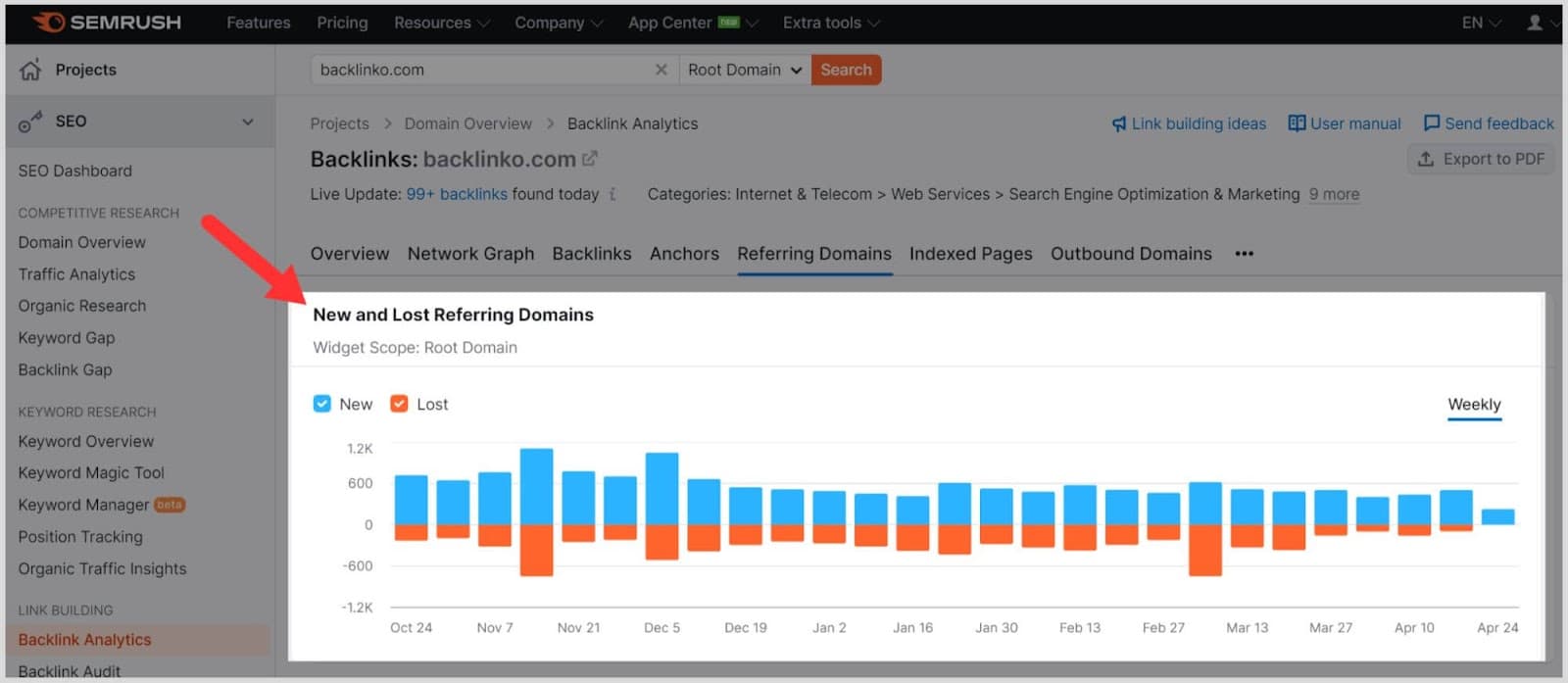 And a list of all your referring domains, with the Authority Score and the total number of backlinks you have from each: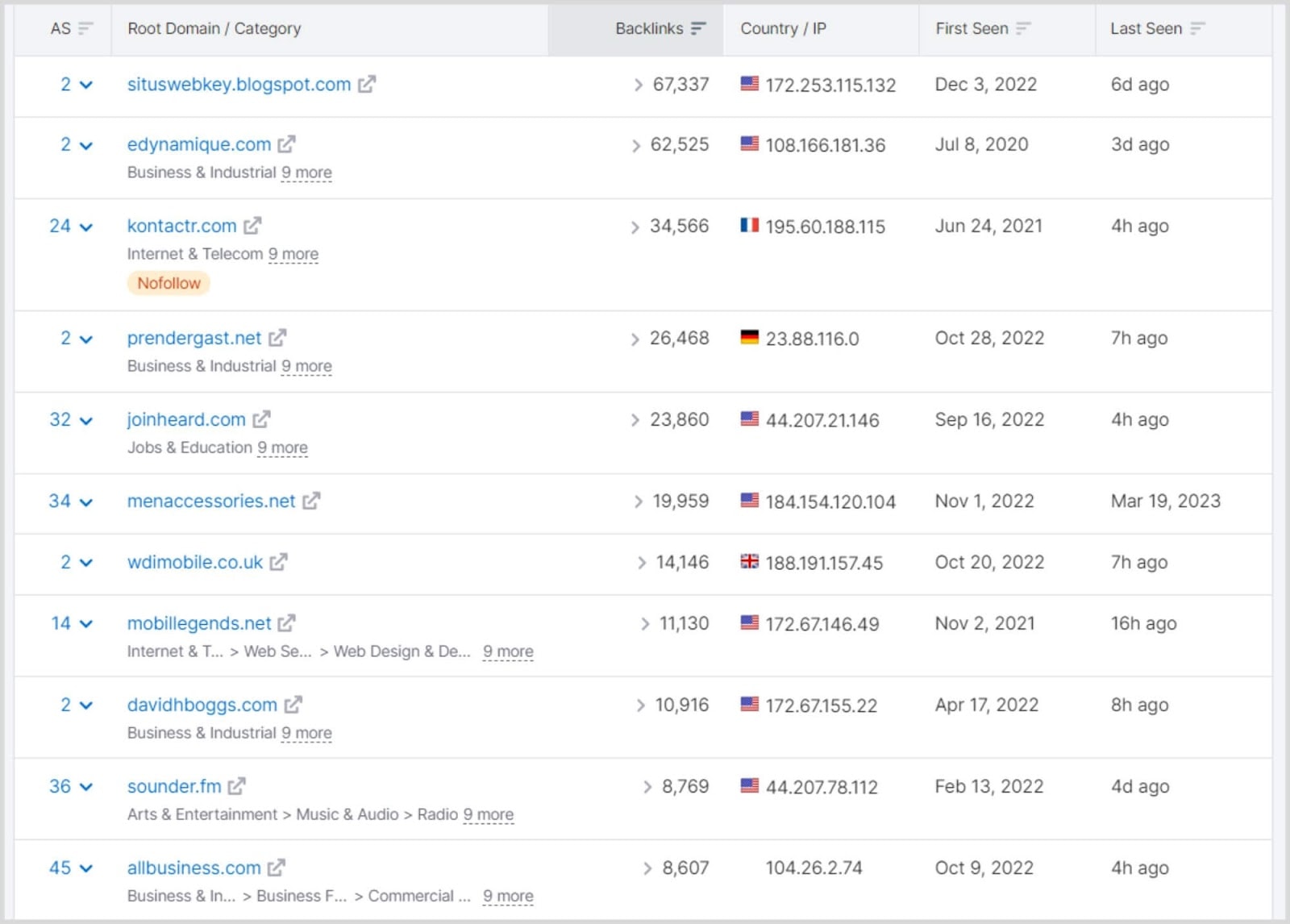 Pretty neat.
The referring domains metric is much more useful than the overall number of backlinks in my opinion.
But the number of referring domains alone STILL doesn't tell the full story.
We can use filters to get a more realistic and valuable referring domain count—one that filters out spam and junk.
I do this by selecting Authority Score > 30, dofollow domains only, and choosing active domains.
This means only live, dofollow links with a relatively high authority will show. You can see I'm now only looking at around 6000 referring domains instead of almost 60,000: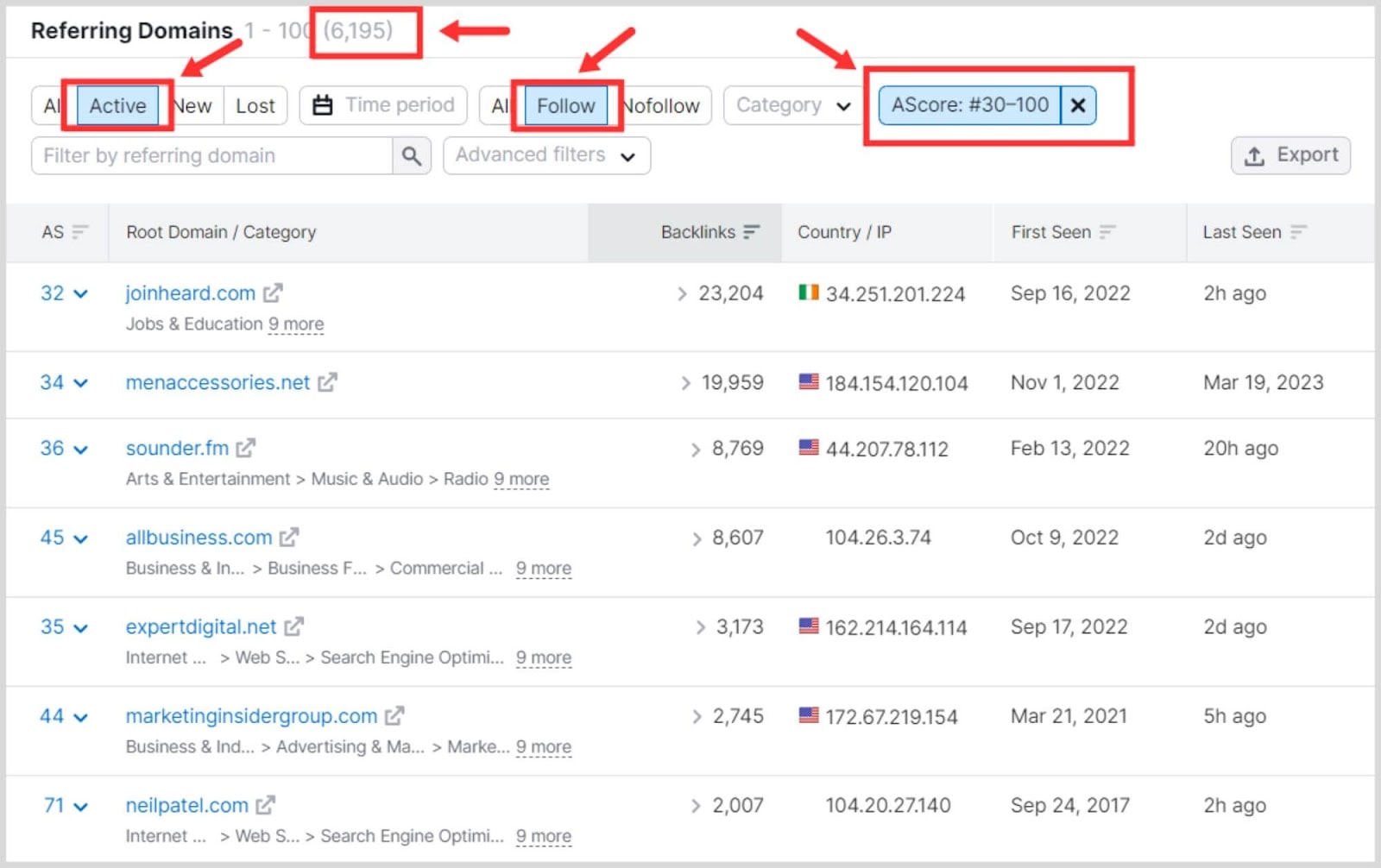 Also, if you have thousands of backlinks from one domain, it could just be that that person LOVES you and your content. (Which is no bad thing, but it's not as beneficial for SEO).
But if you have thousands of backlinks from thousands of domains, Google will realize that your content is trustworthy and valuable enough for many sites to link out to it.
Again, you'll need to take a look at what your competitors are doing here.
Do they have backlinks from a wide range of referring domains? Then you should too, so you can remain competitive.
Step 3.5: Compare Your Link Velocity to Your Competitors
You'll also need to look at both your and your competitors' link velocity at this stage.
Go back to the graph showing how many referring domains you gained and lost each week. If your competitors are gaining 100 new referring domains each week, you'll want to do the same, ideally more (remember what I said earlier about being one step ahead?)
But remember not to go too aggressive with your link building strategy until your site has built up some authority. If you see that your competitors have a high link velocity (they gain a lot of backlinks, fast), it can be tempting for you to do the same.
However, quickly acquiring too many backlinks can appear suspicious to Google and could harm a new, low-authority site rather than help it. (I'll tell you more about that later).
Step 4: Perform a Competitor Backlink Gap Analysis
The next thing you'll want to do is perform a backlink gap analysis. Essentially, this is comparing which sites your competitors have backlinks from, but you don't.
On Semrush's (well-named) Backlink Gap tool, you put in your domain plus up to four of your competitors' domains.
You'll then see a table that shows you which domains your competitors have backlinks from:
In this example, you can see that all three competitors I chose (Search Engine Journal, Neil Patel, and Yoast) have links from oracle.com, stanford.edu, and time.com.
So, these are most likely sites that I should consider acquiring backlinks from, too.
A little further down the list, you'll see there are sites that only one or two of my competitors have links from:

For example, Neil Patel and Search Engine Journal both have backlinks from themarketingmeetup.com, but Yoast doesn't.
Some of these could also be good prospects, but I'd prioritize the sites that all my competitors have backlinks from.
When you're looking at these gaps in your backlink profile, you can save any referring domains you like the look of.
All you have to do is check the boxes to the left of each domain then hit "Export" at the top right of the page: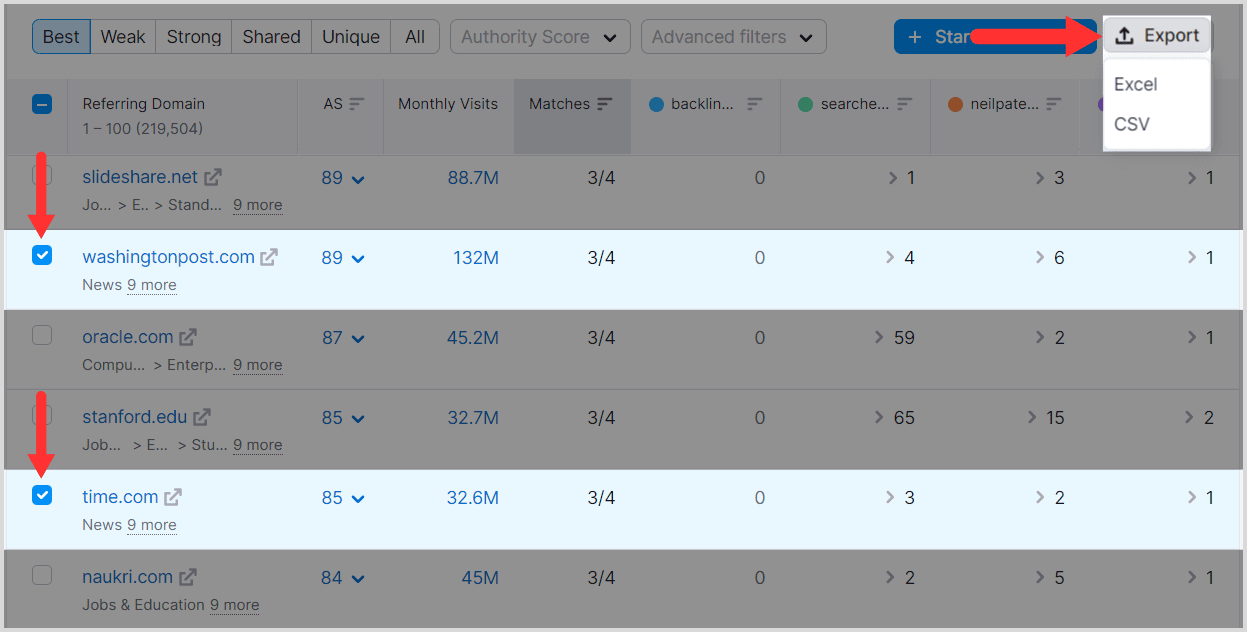 This will save all your data in a handy spreadsheet that you can come back to later when you want to do some link-building outreach.
Now, it's worth mentioning here that you're highly unlikely to match each of your competitors' authority at the domain level.
Instead, you'll want to look at individual pages or clusters of pages.
Let's say you're a wine retailer, and you're competing with a site like Good Housekeeping (a very broad domain).
Now, within this site, there is a food and drink section. Digging deeper, there's also a section on wine reviews.
The reality is, your site is never going to catch up with Good Housekeeping in terms of authority or referring domains.
But, there is a silver lining.
Good Housekeeping has over 140,000 referring domains across the entire site:
But the wine section only has 40 referring domains: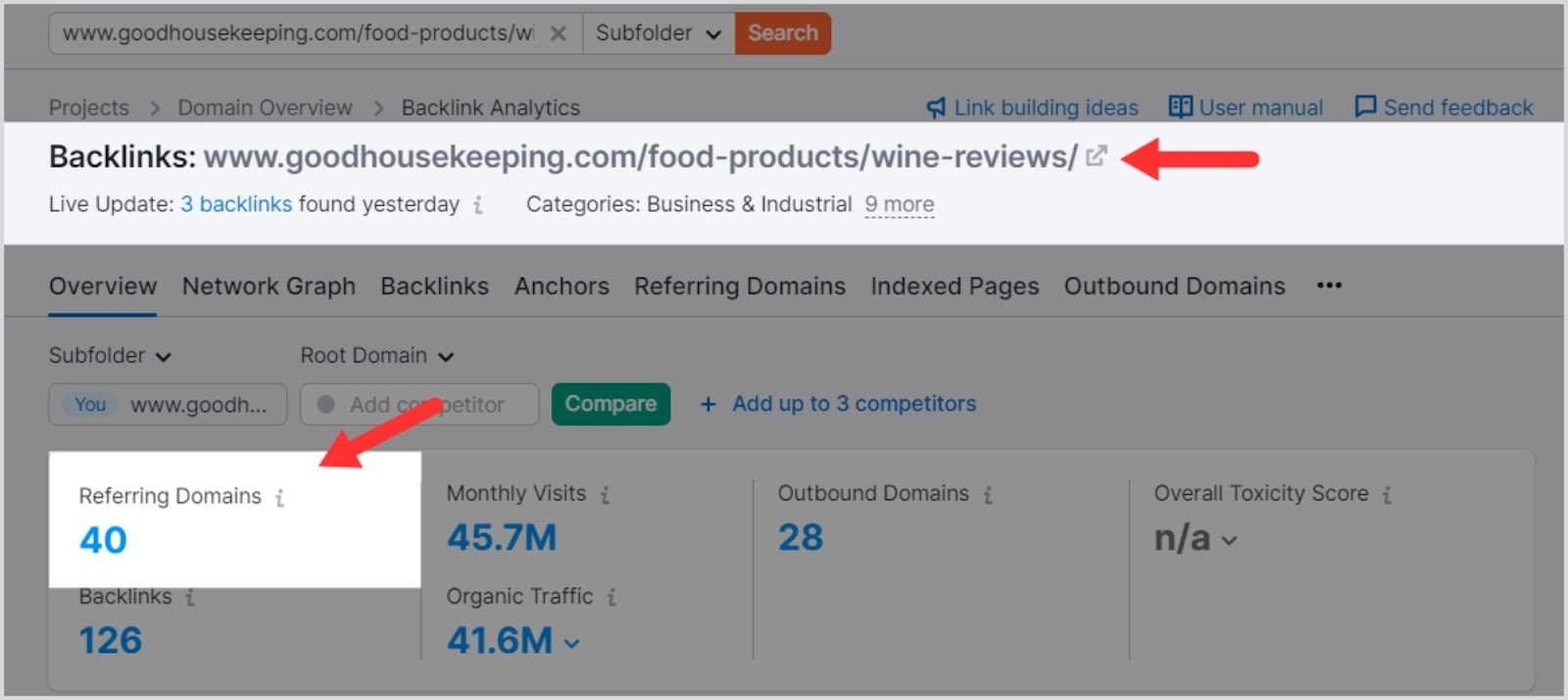 A much more realistic target for our independent wine retailer.
But wait, there's still more.
While 40 referring domains might be a good benchmark for our wine retailer to start with, we still need to analyze these referring domains to make sure they provide value to our site.
Our content still might be able to out-rank Good Housekeeping's wine pages with fewer than 40 referring domains if ours are more relevant than theirs.
Let's dig deeper.
Applying the filters I mentioned earlier (active domains, dofollow only, and Authority Score > 30), I see that Good Housekeeping's wine category only has 4 quality referring domains: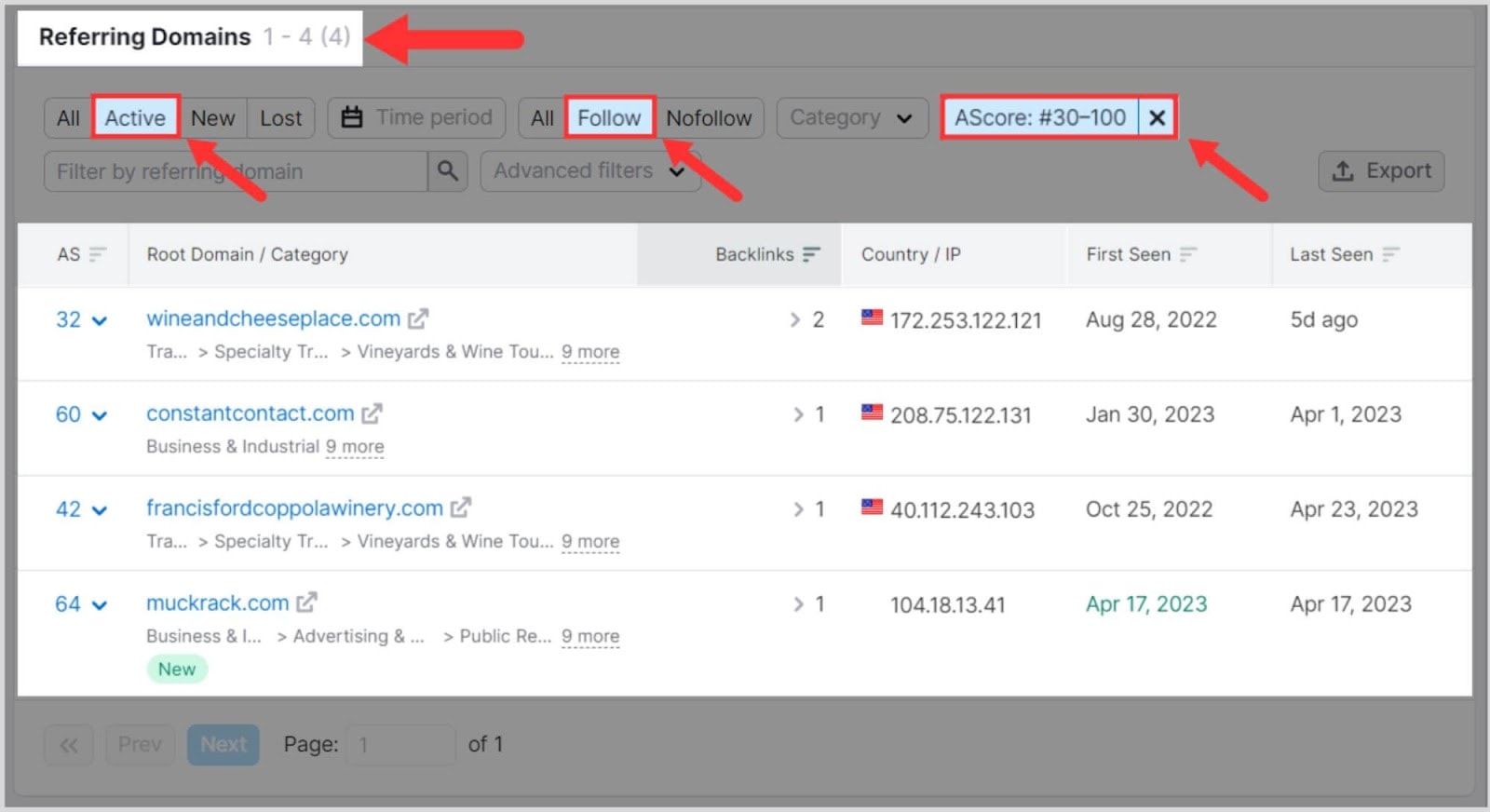 This makes it even easier for our grape-loving friend to compete!
But, it's not quite as simple as looking at one competitor. You'll need to look at a few of your top competitors and follow the steps above to find the average number of high-quality referring domains their sites have to the relevant pages or categories.
Step 5: Analyze Link Quality
So I said above that you'll want a similar number of backlinks as your competitors to have a good chance of out-ranking them.
But that doesn't mean you should scramble to gain as many links as possible right this second.
While it's true that you will need to have a similar number of links as your competitors, it won't count for anything if your links are all low-quality. 
It works the other way too (which is why I said I don't really find the total number of backlinks metrics useful). If your competitors have 1000 more backlinks than you do, but they're all spammy, low-quality links, you'll probably have the edge anyway.
Basically, it comes down to this: Your backlinks' overall authority needs to beat that of your competitors' backlinks for you to have a good chance of out-ranking them.
But what exactly defines a 'high-quality backlink'?
The best quality links you can get are from sites that:
Are topically relevant (is the content on the site related to yours? Would it make sense for them to naturally link to your content?)
Are high in organic search traffic and rankings (look for sites with at least 500 organic visitors per month and ranking for hundreds of keywords in the same location as you
Are authoritative (remember to consider Semrush's Authority Score metric)
Are linked to often (in other words, the sites you get backlinks from should themselves have a diverse backlink profile with lots of referring domains and a high link velocity)
Have a good ratio of nofollow to dofollow links (I'll tell you what the ideal ratio is soon)
Have a balanced ratio of inbound to outbound links. If a site has a huge number of outbound links but much fewer inbound links, it's a potential indicator that you're looking at a link farm. Anything over 2:1 in favor of outbound links should set alarm bells ringing.
Once you've assessed the quality of the site, you'll need to look at the placement of the link on the page, too.
High-quality links will usually be placed near the top of the referring page rather than hidden away at the bottom of the article.
They must also use a relevant anchor text surrounded by plenty of relevant text.
Here's a quick look at determining link quality on Semrush.
From the Backlink Analytics tool, select the Backlinks tab, and you'll see a list of all your backlinks:
Clicking on my first backlink, from designrush.com, I can see pretty much everything I need to know at a glance: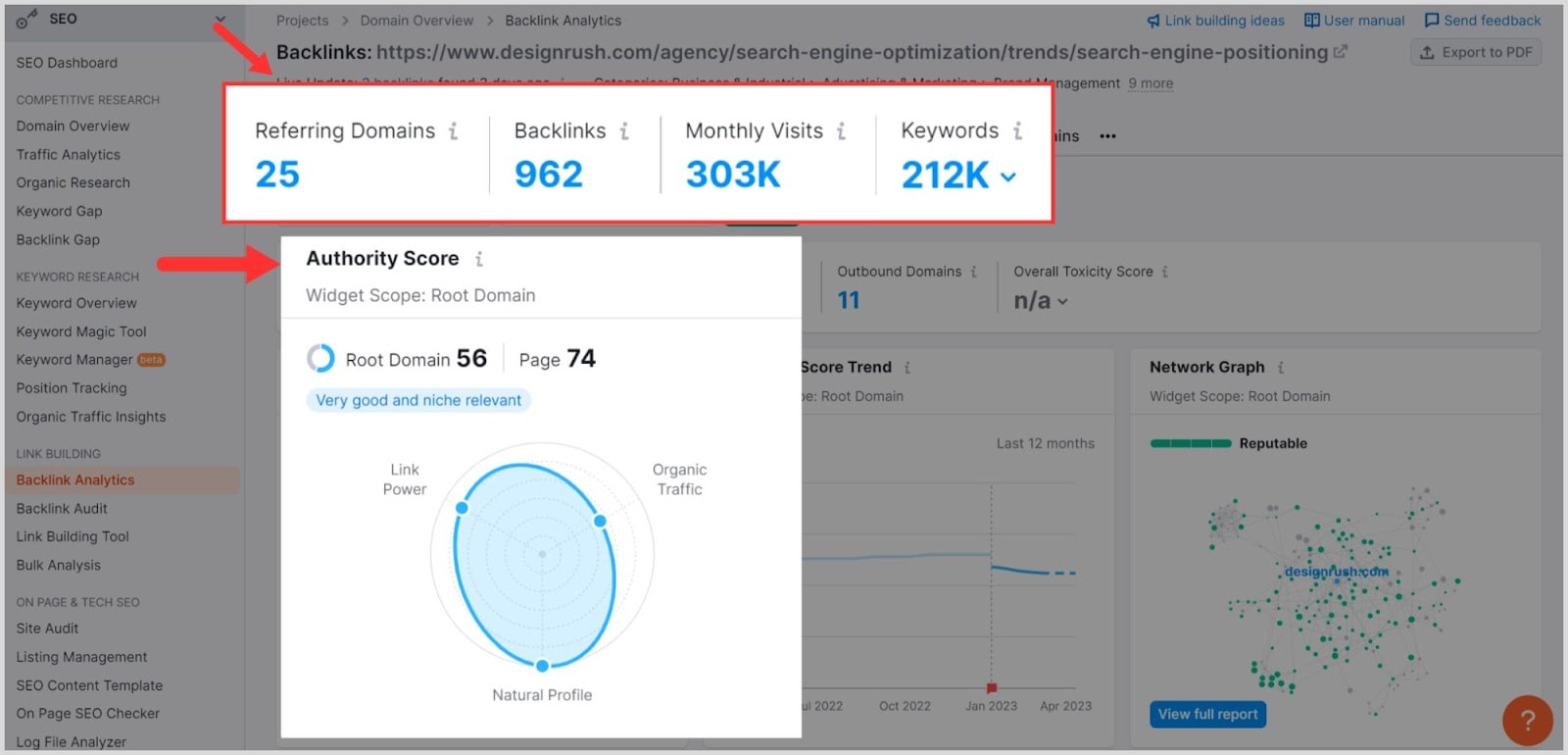 I can see the site ranks for thousands of keywords and has thousands of monthly visitors, both good signs.
While the number of referring domains linking to this URL is quite low (25), the domain's Authority Score is 56, which Semrush classifies as "Very good and niche relevant" (just like mine).
Unfortunately, I've lost this backlink, but I would've been happy for it to stay!
Step 6: Check your Dofollow to Nofollow Link Ratio
The only difference between dofollow and nofollow links is how search engine crawlers treat them.
Crawlers can follow dofollow links, and they pass on link juice to your site. Basically, high-quality dofollow links are the ones that can help boost your rankings.
But, don't be too quick to discount the value of nofollow links.
Although they don't pass on any link juice, having a good amount of nofollow links will make your backlink profile appear more natural to Google. It signals that your site is naturally acquiring backlinks from a diverse range of sources.
Although search engine crawlers can't follow nofollow links (hence the name), users can. So, someone reading a page can still click on the link and land on your website.
So, nofollow links still promote your content to users, which can lead to increased trust AND brand exposure.
Not bad.
To check your dofollow to nofollow link ratio using Semrush, scroll down on the Backlink Analytics Overview until you reach the Link Attributes widget: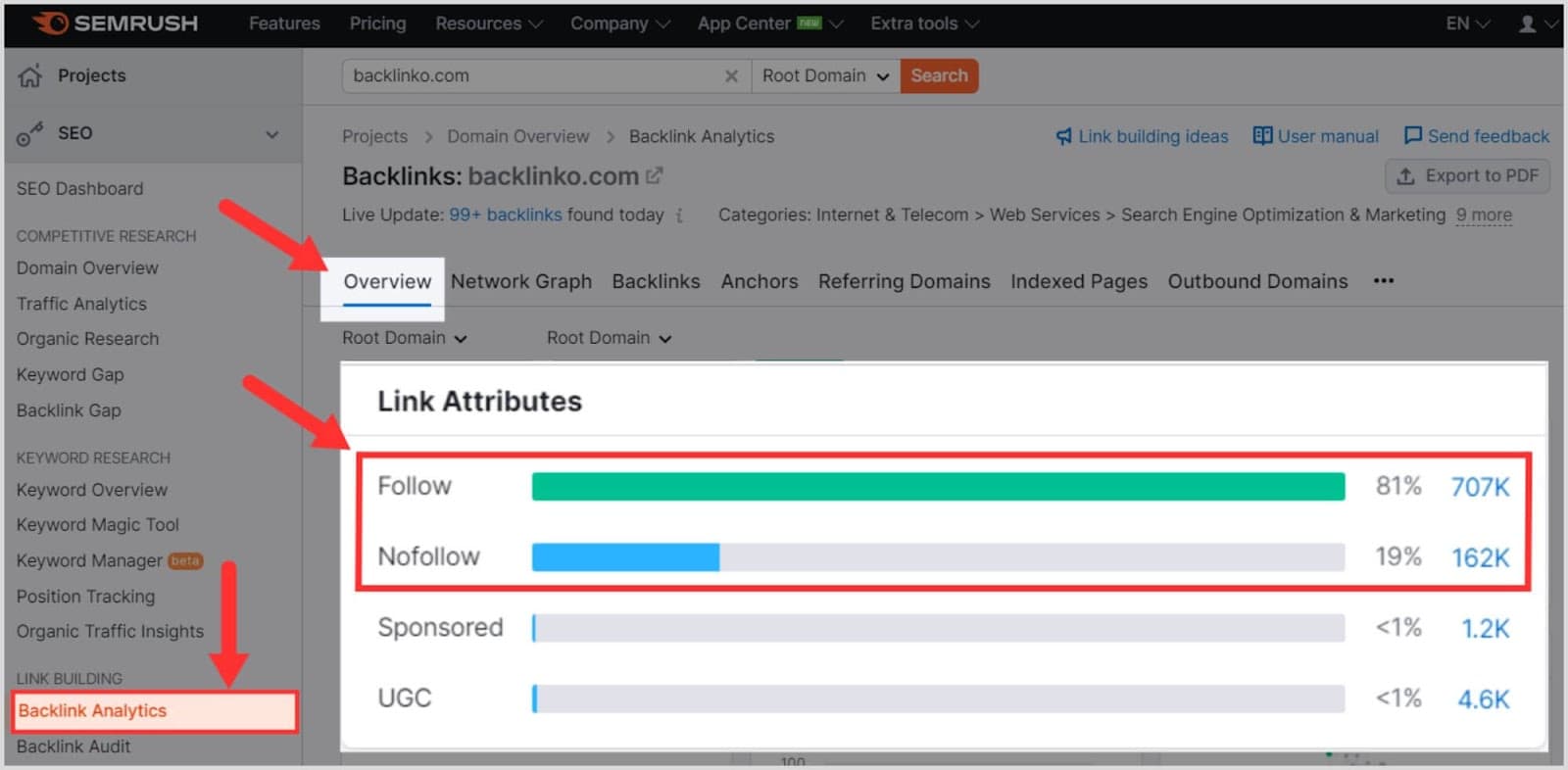 You can see that 81% of my backlinks are follow, while 19% are nofollow.
A roughly 70:30 or 75:25 split in favor of dofollow backlinks is seen as pretty natural by Google, so I'm not too worried.
Remember, building too many dofollow links at once could see your site punished with manual action. So, if you're going to be aggressively building links, it's worth thinking about acquiring nofollow links along with your dofollow link building strategy.
That's not to say that you can't buy backlinks, period. While it's technically against Google's guidelines, your site will be safe as long as you buy and build links appropriately.
What does this mean?
So long as you follow the tips provided throughout this article (like ensuring you use relevant, well-placed anchors and only buy links from relevant, high-quality publishing sites), you'll be fine.
On the other hand, publishing low-quality, plagiarised guest posts on irrelevant sites with even more irrelevant anchors is likely to see you penalized.
I'd recommend taking a balanced approach to gain high-quality backlinks through a variety of methods rather than solely paying for guest posts all the time.
Step 7: Compare the Types of Backlinks your Site Has
The two main types of backlinks are dofollow and nofollow, but we can break these down further. Some of the most common types of backlinks you'll want to get for your site include:
Press releases
Comment links
Links from social media posts
Bio links
Business profile links
Guest posts
HARO (help a reporter out)
High-quality directory links
Editorial backlinks
Paid backlinks (as long as you use the rel="nofollow" or rel="sponsored" attribute)
While not all of these will directly benefit SEO, they will boost your brand awareness. It's worth having a range of backlink types to maintain a natural, diverse backlink profile.
Again, you can check how many of each you have with Semrush's Backlink Analytics tool. Just scroll down to the Backlink Types widget; it should look something like this:
You'll see the vast majority of my backlinks are in text form, as I'd expect. Text links have much more SEO value than the other types, as search engine crawlers can't analyze images for relevance as they can with text.
Even if the image has a descriptive alt text, it still isn't as impactful as a text link. So if you notice you have more image backlinks than texts, you'll want to take action.
Step 8: Identify Spammy and Toxic Backlinks
Spammy or toxic backlinks are basically the opposite of high-quality links as I described above.
As we know, Google takes link building campaigns seriously. Essentially, any link placed with the sole purpose of boosting rankings CAN be considered spammy. (But if you make sure your paid links appear natural, there's nothing to worry about).
Spammy links include the likes of:
Links from sites that aren't indexed by Google
Links coming from every page on a website
Backlinks from sites that are designed purely for link building purposes (link farms)
Too many links using exact-match anchors (I'll tell you more about how many is safe later)
Links coming from sites that are clearly not topically relevant to your site
Links hidden in websites' footers
Blog post comment spam links
The easiest way to identify these bad links is again by using Semrush's Backlink Audit tool.
From the Backlink Audit Overview page, click on the red section of your Toxicity Score:
And you'll get a list of all the backlinks Semrush considers toxic: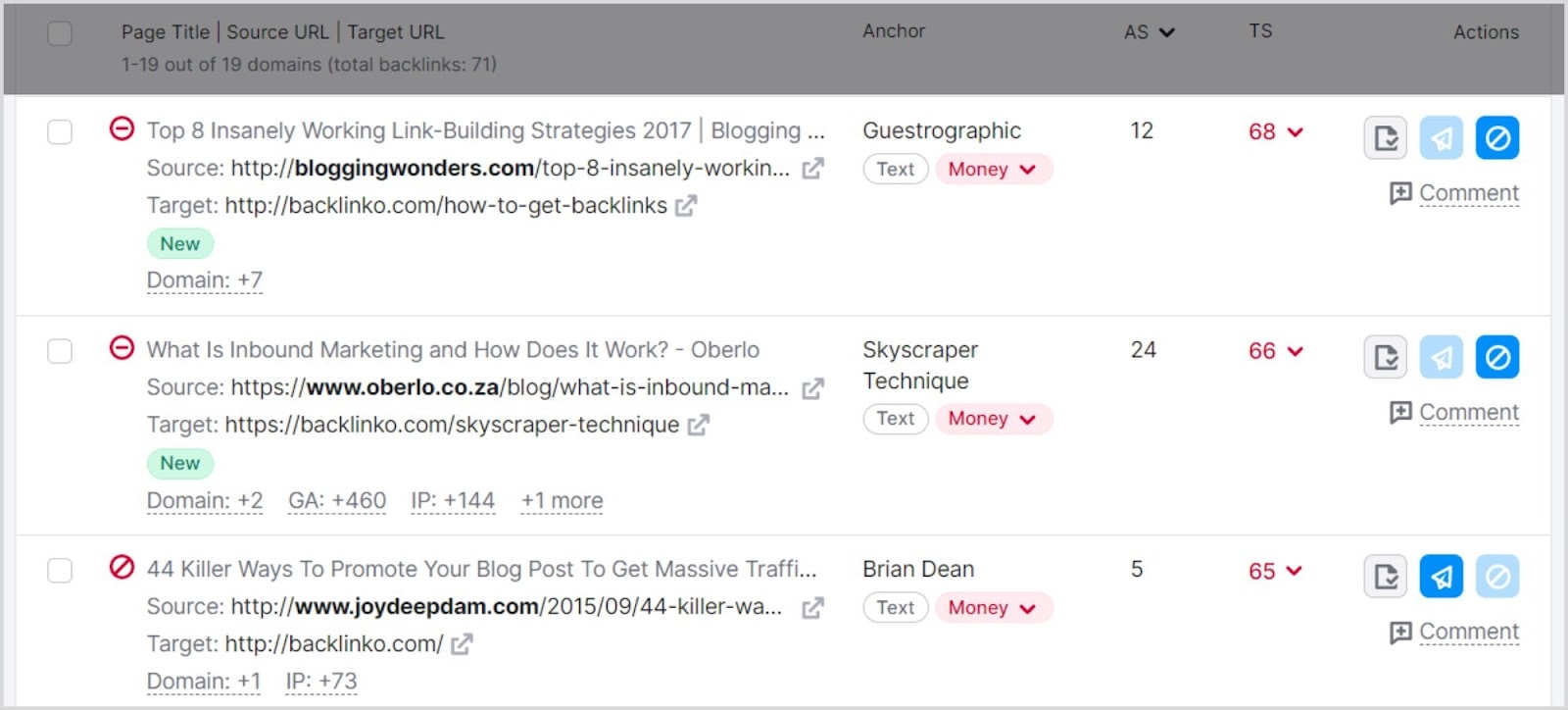 You can click on the arrow next to each link's Toxicity Score to get a brief overview of why the tool considers the link to be toxic: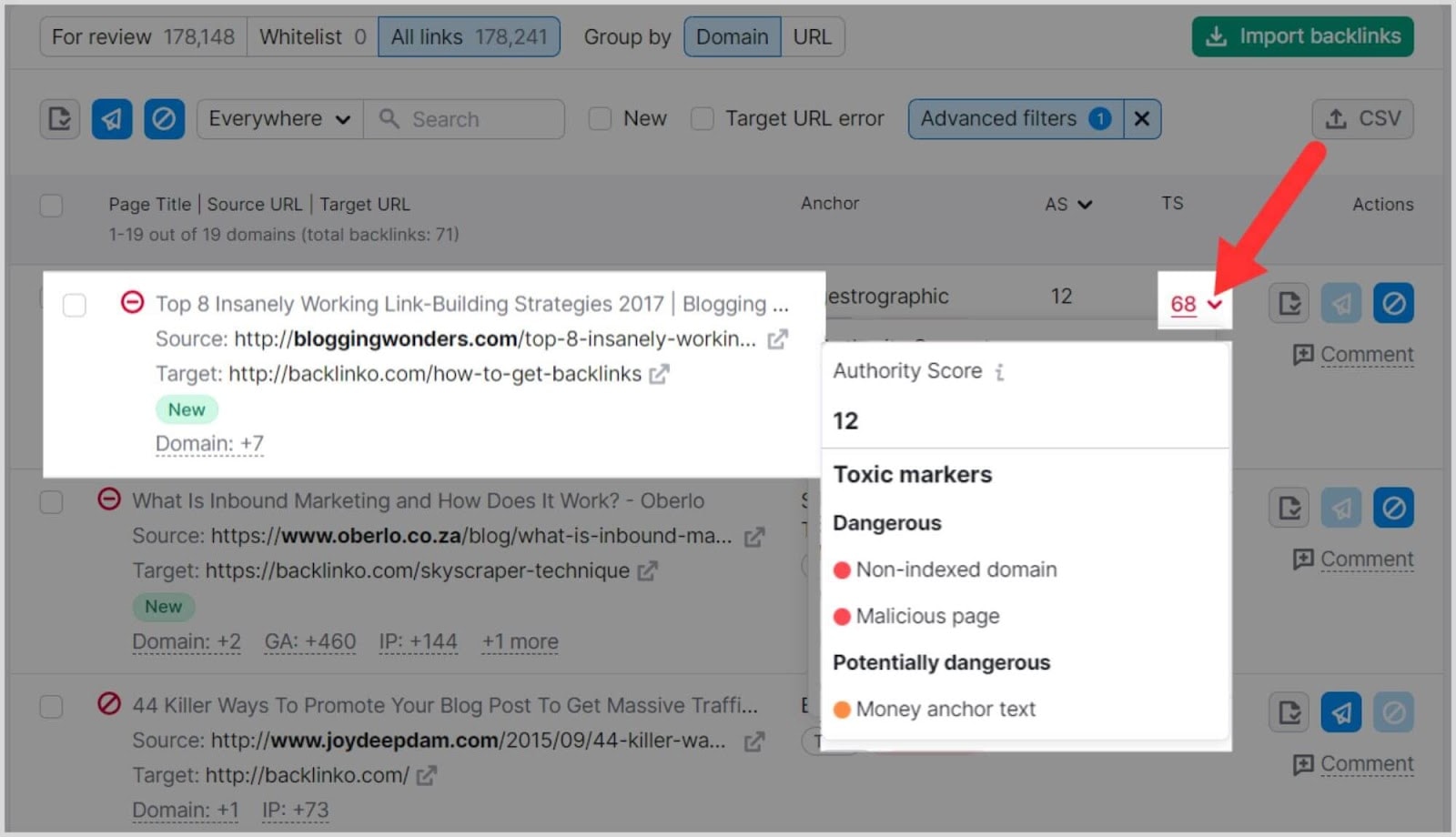 There is a risk of getting a manual action from Google if you have too many of these links, so you'll probably want to disavow them if you discover a lot of them.
While you can't do that directly in Semrush (you'll need to use Google Search Console too), it does have a nifty feature to help you out: The Disavow List.
Simply check the box to the left of any backlinks you want to disavow, then move over to the right of the page where you'll see a small blue button with a circle with a line through it: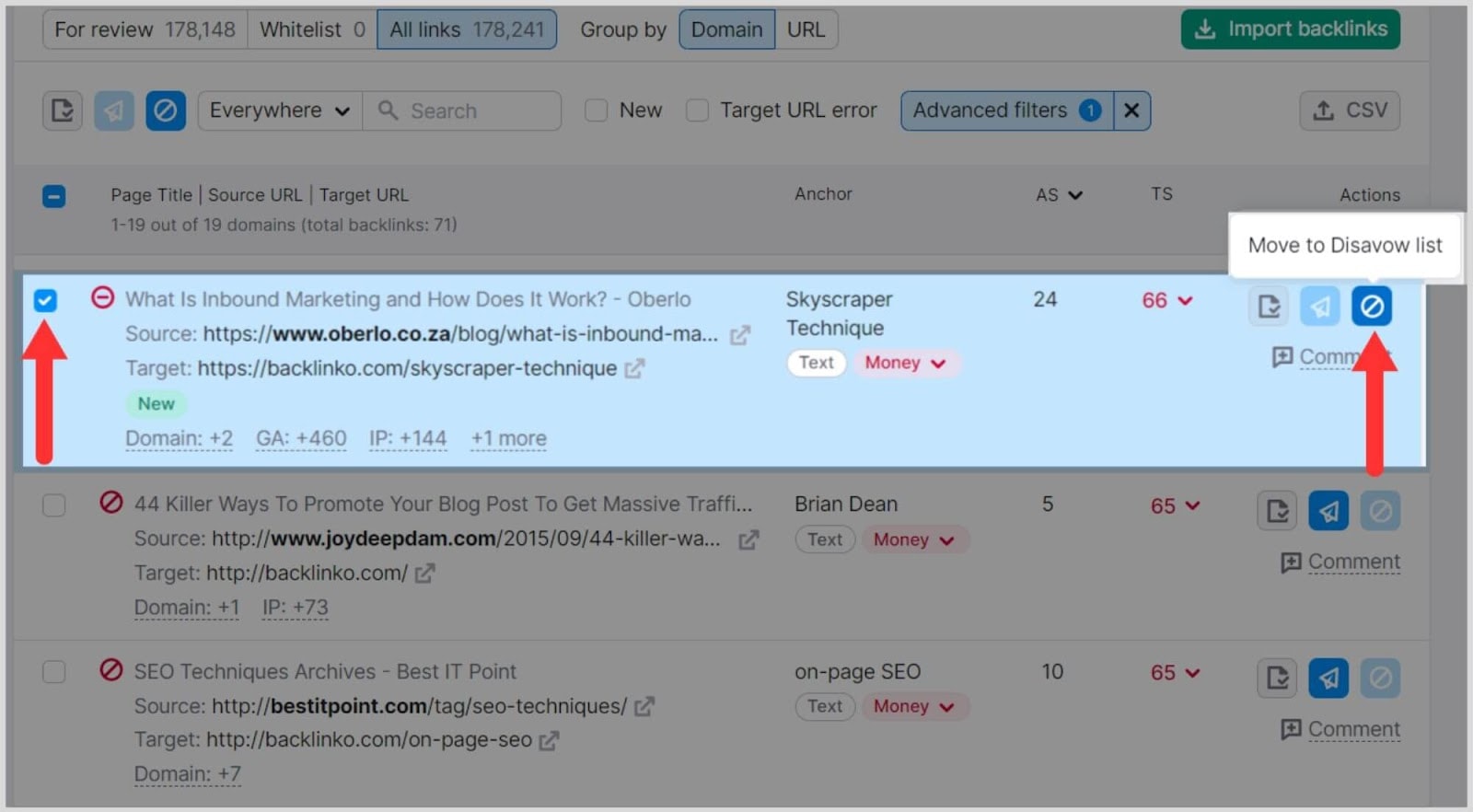 Clicking this will move these harmful URLs to a list that you can then export as a .txt file to upload to Google Search Console. Just click the Disavow tab at the top of the page, then the green Export to TXT button.
Once you have your disavow file with all the links you wish to disavow, head over to the Google Disavow Tool (in Google Search Console).
Follow the steps the tool takes you through, then upload the .txt file you exported from Semrush earlier.
If you think you've left it too late and your rankings are suffering, you can check for a manual action on Google Search Console.
Scroll down to Security & Manual Actions on the left sidebar, then click on Manual Actions. If you've received such a penalty, you'll see the details here:
Thankfully, my site is safe!
A manual action doesn't always affect your entire site, only the pages that have violated Google's Webmaster Quality Guidelines.
It occurs when a human reviewer discovers an issue with your site. In the case of backlinks, it'll most likely be down to an unnatural link building pattern.
To keep your site safe, follow my tips throughout this guide on identifying toxic links and instead focusing on acquiring high-quality, natural backlinks.
Step 9: See What Content Gets Linked to the Most
The next thing to look at is your most-linked pages. What type of content do people love linking to on your site?
You'll also want to check out the same details for your top competitors. If they have 100 referring domains to a page on a topic that you haven't covered on your site, you better get writing one pronto! (Provided it's relevant to your site, of course).
Similarly, if you notice that some of your pages don't have a lot of backlinks, it could indicate there's an issue with the page. Maybe the content is weak, lacking in graphics, or isn't unique enough to be worth linking to.
In other words, you'll often find some great opportunities for a content refresh during your link profile audit.
Again, analyzing your competitors is quite handy here. If you notice the same issue on their site, you can swoop in and create a better page that people will want to link to!
From the Backlink Analytics Overview page, scroll down to the bottom and you'll see the Top Pages widget:
Hit View Full Report, and you'll see how many backlinks each page on your site has, and how many referring domains they're coming from:
As you can see, my most linked-to pages are:
https://backlinko.com/google-ranking-factors
https://backlinko.com/
<https://backlinko.com/search-engine-ranking
On the other hand, clicking Domains at the top will order the pages from least linked-to to most linked-to:
You might have noticed that most of these web pages are dated 2018 and they aren't indexed anymore (by checking Semrush's Last Seen date in the right-hand column), so I'm not concerned about the fact that they have no backlinks.
If you find pages without backlinks that were last seen by Semrush much more recently, these are the ones you'll want to try and build links to.
Step 10: Find (and Exploit) 404 Errors
404 errors occur when a link points to a page that doesn't exist anymore. They can come about when you delete a page from your site without implementing a redirect first.
404s aren't great for users, because they land on an error page instead of the content they were hoping to find.
They're even worse for link building (maybe) because all the link juice from the referring domain is lost along with your web page.
So how can you fix these errors and restore the page authority from your backlinks?
If you have deleted a page from your site, you'll want to set up a 301 redirect to either the new URL you created to replace it OR the most relevant page on your site. If there's no better option, you can 301 to the homepage instead. This will ensure that most (but not always all) of the link juice is passed over from your backlink to the new URL.
You'll also want to have a look at your competitors at this stage. If you notice any dead backlinks pointing toward your competitors' sites, you can try what's known as broken link building.
Essentially, this involves finding broken links on your competitors' sites and reaching out to webmasters suggesting they link to your content instead.
Unlike guest posting, broken link building allows you to offer the webmaster something more valuable—fixing dead backlinks (broken links) on their site.
Anyway, to find these dead links on either your own site or a competitor's, you can use Semrush's Backlink Audit tool.
Once you've plugged in your (or your competitor's) URL, open the Target Pages tab, and select the Target URL error box:
Luckily, I don't have any of these issues. If you do find 404 issues on your site, it's time to take action.
You'll want to either set up a 301 redirect toward a new, relevant page on your site or reach out to the webmaster of the referring site to see if they can update the link to point toward the correct page.
Step 11: Check Your ccTLD Distribution
Country Code Top-Level Domains (ccTLD) are domain suffixes that show which country a website is from. These include .co.uk for sites from the United Kingdom, and .com.au for Australian sites.
It's relevant to your link profile because having a bunch of backlinks from sites based in a different country from yours can look suspicious to search engines.
Let's say you have a .co.uk domain but you have loads of backlinks from Chinese sites. This is a pretty strong indicator that the links are spammy, and search engines will take note!
If Google discovers that you have many links from sites outwith your geographical area, it'll think you're trying to manipulate your rankings through irrelevant backlinks (and I mentioned earlier how much this is frowned upon).
It's natural that you might acquire some backlinks from sites in other countries, but too many is definitely a warning sign and could harm your rankings, credibility, and reputation.
I will point out that at this stage, you don't need to worry if you have a lot of backlinks from another country that speaks the same language as the one your site is based in.
By this I mean a British company's .co.uk site might have several Australian (.com.au) backlinks. It's completely normal for English-speaking countries' sites to pick up links from other English-speaking countries.
To find these domains using Semrush, follow these simple steps.
Open up the trusty Backlink Analytics tool and scroll down until you see the TLD Distribution and Top Countries widgets.
As you can see, the top TLDs my site has aren't country-specific, as many countries use the .com domain suffix. So, this all looks really natural, and I've got nothing to worry about here.
Looking at the top countries, the overwhelming majority of my backlinks (72%) come from US-based sites and a further 4% from UK-based sites. Again, I'm in the clear.
If you do find a lot of irrelevant ccTLDs, you'll want to consider disavowing them using the tips I provided earlier.
Step 12: Identify Negative SEO Attacks
Negative SEO is essentially the opposite of SEO. >
It's when a competitor (or someone else with malicious intentions) attempts to harm your website's rankings. As you've probably guessed, it's a serious black hat tactic and NOT one I would advise anyone to try!
But, knowing what this type of attack is is important so you can detect the signs of one early on and take action before it takes effect.
Although Google has said that negative SEO is not highly likely to work, it's still worth keeping an eye out for the signs.
Google's Gary Illyes on Real-Time Penguin, Negative SEO & Disavows

Gary has looked at hundreds of supposed cases of Negative SEO & none have been the reason for a traffic drop & "The team is continuing to work on real-time Penguin algo to make it better" https://t.co/SJi6E7MVaN pic.twitter.com/Mvn380lJsv

— Glenn Gabe (@glenngabe) March 8, 2019
And the best way to do that is with regular backlink audits.
To identify negative SEO attacks during your audit, watch out for:
Sudden spikes in the number of backlinks you have. This suggests someone has built a large number of unnatural, spammy backlinks to your site.
Sudden dips in the number of backlinks you have. Opposite to the above, someone may have been submitting fake link removal requests to webmasters to have your site's backlinks taken down.
Spammy anchor texts, and lots of them. These will often revolve around things like "buy cheap viagra", "get rich quick", "lose 10 pounds in a week", "play poker online", and so on. Essentially, you should be wary of a large number of anchors that aren't relevant to your niche.
A high Toxicity Score. Follow my guidance above on monitoring this with Semrush. If it's higher than it was during your last link audit, it could be a sign that someone has built some spammy backlinks to your site in the meantime.
See my tips in the "Identify Spammy and Toxic Backlinks" section above to have any harmful links you identify disavowed if needed.
Step 13: Analyze Your Anchor Text Distribution
I touched on anchor texts above, but at this stage, you'll want to look more closely at them.
Anchor texts are the words used on a page to link to your site.
Choosing the right ones can be hugely beneficial to your SEO, but too many of the wrong ones can do A LOT of damage.
Google uses anchor text as a ranking factor, so it's crucial that you get it right!
To keep your site safe from penalties and to get the maximum impact from your backlinks, follow these best practices:
Make sure they're relevant: The anchor text used should correlate with the content on the page you're linking to. For example, you don't want an anchor text like 'laptops for sale' pointing towards your page about link building tips! In other words, readers should know what to expect when they click on the link.
Fit them naturally in the text: Google also considers the surrounding text when determining a link's relevancy. So, continuing with my example above, if you want to link to your link building tips article, you shouldn't do so in a review about the best laptops for students. Remember, your readers are just as important as search engines, so make sure your content flows well for them, too.
Avoid too many exact-match anchors: Okay, so I did just say above your anchors need to be relevant to the content they're linking to, but that doesn't mean every single one of your backlinks should use an exact match anchor text. I'll tell you more about keeping a diverse anchor text profile in just a minute.
Watch out for spammy anchors: As I noted above, thousands of spammy anchors about gambling and other adult topics that aren't related to your content are a big red flag to Google.
In terms of your audit, the main types of anchor text to know about are:
Exact match
Branded
Blended
Each of these can be broken down into further sub-categories, but let's keep things simple here.
Your exact match anchor texts are just what they sound like: They exactly match the target keyword of the page they're linking to.
If I were to build a backlink to this backlink audit guide with an exact match anchor text, I'd choose "backlink audit."
Branded anchors don't relate to the page they're linking to; instead, they relate to your brand name (no surprises there). It could be either your website's name or your web address as a naked URL (either with or without www and/or https).
For this page, it could be something like "backlinko.com", "backlinko", or "https://backlinko.com".
Blended anchor texts are a little different. They use the exact match phrase combined with more generic terms.
So, for this page, I'd choose something like "This complete guide to performing a backlink audit".
But why does this matter?
The ratio of anchor texts you use varies depending on whether you're linking to your homepage or an inner page.
Having the wrong balance can make your site's backlink profile seem unnatural to Google.
It's unlikely that sites will always naturally use the exact match anchor text you'd like for your page. That's why these should always make up the smallest percentage of your anchors.
Here's a rough guide for your homepage anchors (many SEOs will have varying opinions, so take this as a starting point and figure out what works best for you and your site):
80%-95% branded anchors
10% blended anchors
Just 5% exact match
These percentages are pretty different for your inner pages:
35%-45% branded
50%-60% blended
You can go a little more aggressive, with around 10% exact match anchors for these web pages
If you're going to be building backlinks, I'd strongly suggest you plan out your anchors. Have a look at your existing anchor texts and see where there are gaps.
Have you got loads of backlinks to your homepage using exact match keywords? Then you'll want to get some more branded links to appear more natural.
Similarly, if you've got mostly branded anchors going to your inner pages, you can add a few blended and exact match anchors, and you might see a little boost in rankings as Google realizes the relevancy of your content.
Back to your audit. Here's what to look for when auditing your backlinks' anchor text:
Diversity: Do you have a lot of different anchors used to link to your pages?
Relevancy: Are the anchors used in your backlinks relevant to your content and your brand?
Number of backlinks per anchor text: Are there hundreds of backlinks with the same anchor text?
To check your anchors, it's time to open up Semrush's Backlink Analytics tool again, but this time you'll want to click on the Anchors tab.
It'll look a little something like this: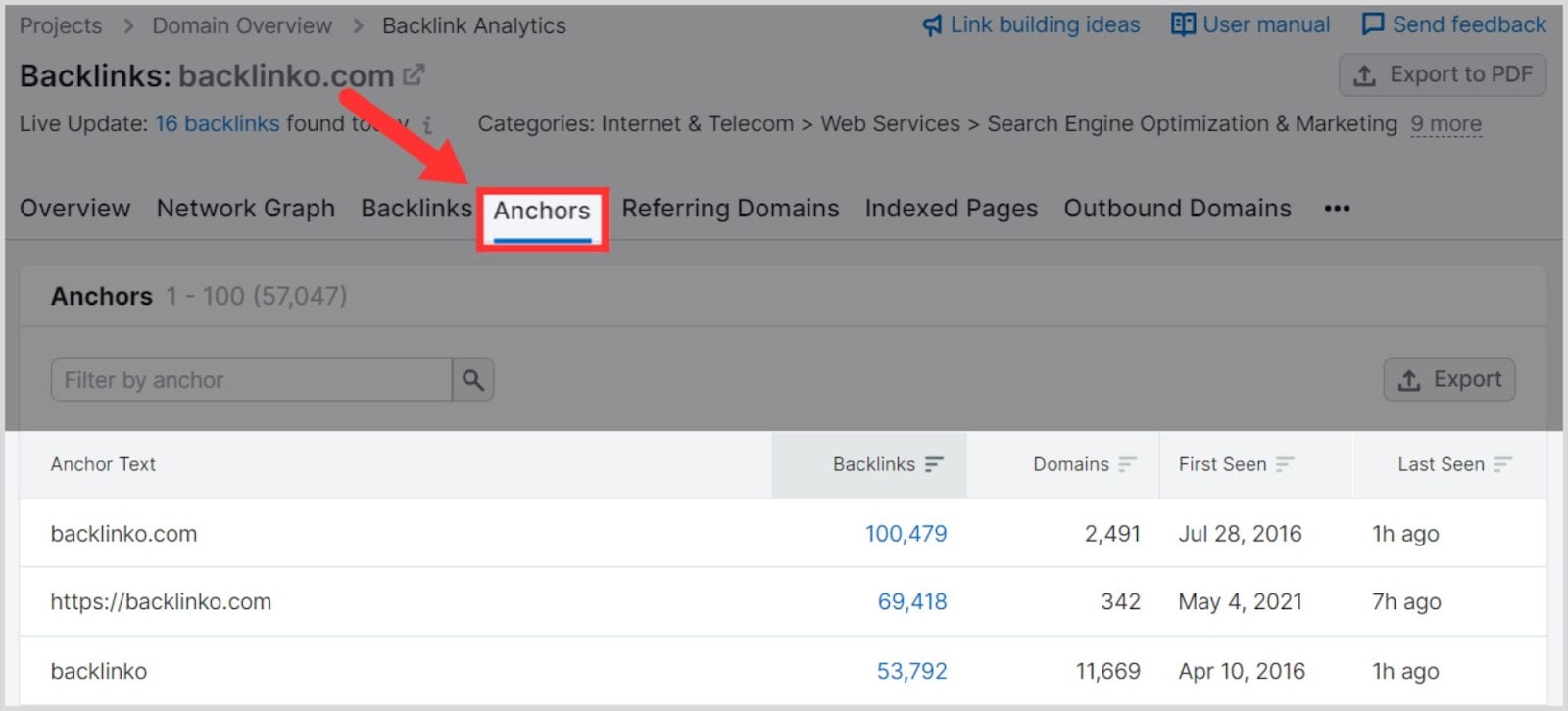 You can see I have a lot of branded anchors. That is, the three most common anchors that other sites use to link to mine are:
If you click on the number of backlinks you have using a certain anchor text, it'll show you all the pages on your referring domains using that anchor text and which page on your site they're linking to.
So, by clicking on the number next to my 'visual content' anchor:
I can see exactly which domains are using this anchor and which page they're linking to:
As I'd expect, most of these backlinks are all pointing toward my https://backlinko.com/hub/content/visual page.
If you notice any anchors that you don't want your site to be associated with (see my negative SEO attack tips above), you'll want to investigate further.
One or two backlinks with these kinds of anchors are unlikely to harm your site, but too many could. So, it's best to follow my previous advice on having links disavowed if they use these spammy anchors. Chances are, they're probably from spammy sites anyway.
Taking it further, you'll want to think about what I mentioned earlier and break your site down into clusters or even individual pages.
You don't want to just look at the whole domain's anchor texts.
For example, maybe your golf site has a section on clothing and one on golf equipment.
The ratios might be out of balance between the different sections. Perhaps your clothing section has 95% branded anchors, but the equipment section only has 20%.
If that were the case, you'll want to build some more backlinks with exact match anchors to your clothing section, and some with branded anchors to the equipment section.
How Often Should You Conduct a Backlink Audit?
So now you know how to perform a backlink audit step-by-step, the next question is "how often should I do one?"
The answer?
It depends.
Now I know you're probably sick of hearing this answer to all your SEO-related questions, but it's the truth.
But I'll help you out a little by telling you what it depends on:
The volume of backlinks your site has (if you have more backlinks/ acquire new ones often, you'll need to conduct your audit more frequently)
The size and complexity of your site, and the volume of content you publish (bigger sites that publish high volumes of content will need to keep a closer eye on their backlink profile—monthly or quarterly)
The age of your site
How competitive your niche is (ranking sites in highly competitive niches will depend a lot on having a strong, healthy backlink profile, so frequent audits will help you stay on top of your competition)
Your overall SEO strategy (did you notice a dip in your rankings? It could be because you've acquired some iffy backlinks—see my tips on negative SEO attacks above)
How long it has been since your last audit
Remember, the more often you do an audit, the less time each one will take. So, doing a monthly audit will most likely take less time overall than waiting for six months and discovering you've gained loads of toxic backlinks that you now need to disavow!
You might also find it best to do a quick (30-minute) audit more frequently, then take a deep dive every quarter, six months, or year, depending on what kind of site you're working with.
If you really need a specific answer, I'd suggest you don't let more than a year pass between audits.
My best advice is this: find the balance that works for you and your site. Consider your goals and the time and resources you have available, and don't get too caught up monitoring your backlinks constantly!
FAQs
Which Factors Do You Focus on Most During a Backlink Audit?
The most important things to focus on during a basic backlink audit are:
The number of backlinks
The ratio of dofollow to nofollow links
The number of referring domains
Your competitors' backlinks
The domain authority and relevance of your referring domains
Can Backlinks Hurt Your Site?
While certain backlinks can give your site a huge boost, others can and will hurt it. Toxic backlinks coming from low-authority, low-quality sites can hurt your SEO, but it's not quite black and white, so to speak.
Google's algorithm has gotten pretty good at learning which backlinks to ignore, so the occasional spammy backlink is nothing for you to lose sleep over. But, if you discover a huge quantity of these links during your audit, it's time to take action.
See this: https://www.seroundtable.com/google-ignore-toxic-links-32711.html
What Are Bad Backlinks?
The term 'bad' backlinks include things like:
'Unnatural' or 'forced' links
Links from spammy sites, PBNs, or link farms
Links from other sites you own
Poor press release links
How Do You Measure Backlink Success?
Monitor the following metrics after building backlinks to see how successful they have been:
Referral traffic
Changes in search rankings
Brand mentions
Social shares
Domain strength
Number of visitors (total, new, and unique)
How Many Backlinks Is Too Many?
There's no such thing as 'too many backlinks', but don't think this means you should build as many as possible! As with many of the best things in life, it's MUCH better for SEO if you focus on quality over sheer quantity.
With that said, you'll want to build as many high-quality backlinks as possible if you want to dominate the SERPs.
As I've mentioned in my guide to backlinks, our search engine ranking correlation study found that the number of sites linking to you (not the total number of backlinks) correlated with Google rankings more than any other factor.
At the end of the day, if you're in a relatively uncompetitive niche, it's probably excessive to build 10,000 backlinks, but that's not to say it'll do you any harm.
Also, pay attention to how fast you're building backlinks. For high-authority sites, there's no reason why you can't build 100 backlinks in a day.
If you're working with a brand-new site? It's going to look a little suspicious if you suddenly gain 50 links from high-authority sites overnight.
BUT (there's always a but!) if you've posted some wicked content that's gone viral, you could well find that you naturally gain those 50 high-authority backlinks in the space of a day.
Once again, the only real answer here is "it depends!"
What Is a Common Mistake with Backlinks?
There's no reason to be scared of backlinks as long as you look out for these common mistakes new (and even experienced) SEOs make:
Building links from low-authority sites
Over-using exact match anchor text
Getting backlinks from sites that are irrelevant to your niche
Only getting links to your homepage
Not acquiring a range of backlinks (consider link insertions, guest blogging, and more)
Using poor outreach methods (like sending generic, spammy emails)
Sources: 


[ad_2]

Source link