[ad_1]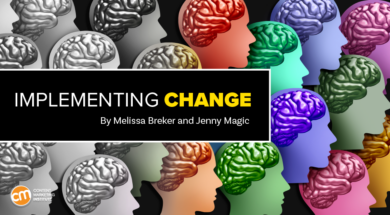 This post was co-written by founder, Better Way to Say It, Jenny Magic.
As communicators and storytellers, content marketers face unprecedented changes.
Day-to-day work requires increasing output without increasing resources. Content must be optimized for business value as well as targeted and tracked to critical customer journey requirements. Add to that change hybrid team management and developments around artificial intelligence, and you can see the growing pressure of change on content teams.
All that combines to create a perfect storm of urgent change initiatives that the team may lack the capacity to address.
Gartner research shows the average employee experienced 10 planned enterprise changes in 2022 – a five-time increase over 2016. Their willingness to support these changes dropped by almost 30% in the same period. Unsurprisingly, change fatigue is a top concern for 2023 and beyond.
Employees face more changes but are less willing to support those changes in 2023 according to @Gartner_inc #research via @MelissaBreker @JennyLMagic @CMIContent. Click To Tweet
Let's look at some in-the-trenches examples highlighting the common change challenges and then walk through some solutions to build and strengthen your "change muscle."
Common change challenges for content teams
Changes happen across the business and within the team. More frequently, they fall into three broad categories – process and workflow, leadership, and technology.
Process and workflow
Changes in workflow and processes can trigger new ways of working. Whether it's adjusting to how information is shared across teams, how content delivery happens, or something else, they require the team to get comfortable with following the new systems.
In-the-trenches challenge: One client struggled to understand their audience's needs. With limited communication and department silos, its teams lacked a workflow to gain information about their audience needs. Each team had different insights on the same audience, but the company didn't define how to share the knowledge and when.
How they made it work: A small project team was set up with representatives across all departments. Each representative researched what information their team captured, where it was stored, and how it was used. Team members were invited to workshops to define a shared vision for how the departments could work better together. In the end, each team could access and surface information sooner, reducing bottlenecks and reducing time to production by an average of 6%.
Technology
Changes in your content technology stack can have a big impact. Consider the effects on people and processes.
In-the-trenches challenge: A non-profit team lacked a cohesive system to track and manage their marketing. Team members had an ad-hoc approach to file management.
How they made it work: A technology audit revealed the team stored information in SharePoint, personal drives, and shared drives like Google Drive and Dropbox. After three facilitated sessions, the team defined storage requirements (current and future), migration needs (files essential for work delivery), and a central location for file types. With a new information architecture and naming conventions, they are in the process of moving to new ways of working.
Organization
Organizational structure, leadership, or culture changes can trigger changes to improve efficiency, effectiveness, and employee engagement. Mergers and acquisitions are often the trigger for an organizational review and audit.
In-the-trenches example: A merger exponentially expanded the size of a client's existing teams. That triggered conversations about roles and responsibilities and who would be accountable for getting the work done. It also created uncertainty about reporting lines, animosity between different groups, and fear about how the culture would change.
How they made it work: It started with an anonymous, confidential inquiry to uncover what team members were thinking and feeling. Then, through a series of workshops, the team expressed their concerns to all. With that understanding, a transition plan was developed, and ultimately, a new vision was developed across all teams to build a foundation of collaboration to drive better engagement and organic business growth.
Although your team and company may face different triggers, understanding the potential challenges stemming from change can help you plan proactively and minimize resistance. It also can help you think strategically while creating tactical plans to get the work done.
Understand the potential impact of change, so you can proactively plan to minimize resistance, says @MelissaBreker @JennyLMagic via @CMIContent. Click To Tweet
Training for change (aka building your change muscle)
When teams proactively work on building their "change muscle," they drive business results and showcase the team's value. Let's have a look at what you can do today to support the team through challenges specific to the introduction of a change.
How to create a clear vision and change plan for new projects
You need to start a new initiative with clearly detailed expectations. Following this multi-step process:
Identify the scope and the impact on team members.
Take it slow. Visionary leaders often jump ahead and skip steps.
Explain why and how, so team members understand the purpose and expectations.
Get curious. Ask questions to better understand the people, workflow, and processes.
Focus on solving the problem, not just the symptoms.
Sell the vision.
Identify and activate sponsors so they are visibly participative, which is essential for buy-in and communication.
Make space for confidential inquiry, gathering anonymous or protected feedback to encourage credible and insightful sharing of concerns.
Build a change journey map for your internal team.
Expect and plan for resistance.
Understand the team's readiness for the new project.
Engage and get their feedback to improve the plan.
Communicate. Communicate. Communicate.
Understand individual motivations and requirements.
Share support and training to help them get ready.
Reset expectations and consider team culture.
Build psychological safety to address uncertainty and change fatigue.
Look at gaps in communication, collaboration, and decision-making.
Watch for bias and groupthink.
How to support change when you don't have the right staffing
Ideally, you have team members who have the necessary experience and enough staff to easily execute the project. In reality, you often have to start the change without sufficient resources. In this situation, you should:
Create a stakeholder map to show informal and formal relationships.
Identify and pull in people who can help the team based on the expertise needed.
Determine key influencers who may help with adoption and address concerns directly.
Look for the gaps and ask for additional people for support or hire new help.
Update priorities and time requirements.
Deprioritize or revise workloads. If you can't do that, look at what you need to remove or recommit to.
Consider the help of unsung heroes – people who may be less visible but who may be more available to assist.
New people can offer different perspectives and may identify gaps in current ways of working.
If you don't have sufficient resources for a change, create a stakeholder map to identify potential help, says @MelissaBreker @JennyLMagic via @CMIContent. Click To Tweet
How to improve communication within and across content teams
Implementing change often fails because the environment doesn't appreciate the value of communication. To make sure that doesn't happen:
Gather the people.
Involve people from the beginning to help them feel more invested in the change and reduce resistance.
Schedule regular check-ins, acknowledge change impacts, and keep team members informed of progress.
Reset and realign expectations and requirements as required.
Be transparent.
Address emotions and acknowledge uncertainty.
Engage others to align on purpose and reduce stress.
Recognize and acknowledge contributions.
Build psychological safety.
Encourage feedback and suggestions for improvements.
Change happens one day at a time
In the end, trying new things and building new strengths takes time, determination, and focus.
By implementing these strategies, you can foster a culture of teamwork and collaboration and successfully navigate change initiatives. Depending on your team's goals and culture, you can plan strategically to gain genuine buy-in and reduce change fatigue. Though no one-size-fits-all approach exists, you can commit to adopting a change approach that builds your team's trust and commitment to boost performance and success.
As Ruth Bader Ginsburg said, "Real change, enduring change, happens one step at a time."
We couldn't agree more.
 Register to attend Content Marketing World in Washington, D.C. Use the code BLOG100 to save $100.
HANDPICKED RELATED CONTENT:
Cover image by Joseph Kalinowski/Content Marketing Institute


[ad_2]

Source link