[ad_1]

TSAW Drones develops and deploys (commercially) level 5 autonomous drones to solve the existing supply chain bottlenecks in the logistics space
With zero failures on the ground, the startup claims to have delivered over 4,500 packages so far
The global drone package delivery market is projected to reach $32.1 Bn by 2031, growing at a CAGR of 43.3%
In the domain of unmanned aerial vehicles (UAVs), while most drone manufacturers have today infused various degrees of automation in their products, complete autonomy of drones, or level 5, is yet to be achieved by the larger ecosystem. 
For the uninitiated, a level 5 autonomous drone has the ability to function with zero human intervention as they are built on highly optimised AI and algorithms. This level of automation is quite rare, and only a handful of drone manufacturers across the world possess the means and technology to develop such drones.
Back home, TSAW Drones claims to be the first Indian drone player to have developed and deployed (commercially) level 5 autonomous drones to solve the existing supply chain bottlenecks in the logistics space when it comes to the delivery of emergency medical supplies and mission-critical items.
Founded in June 2019 by Kishan Tiwari and Rimanshu Pandey, Delhi-based TSAW Drones leverages its UAVs or drones, embracing in-house tech, to deliver critical items with agility and efficiency. 
It is pertinent to note that with the government's push to accelerate domestic drone manufacturing, the country has started witnessing a significant influx of drone startups. These players are working in unison to ease some of the long-standing difficulties in sectors like defence, agriculture, mining, surveillance, and others.
Among hundreds of such startups that are functioning with various unique value propositions, the names of Garuda Aerospace, ideaForge, Skylark Drones, Aarav Unmanned Systems or Aereo, and Dhaksha Unmanned Systems, among others, have carved a niche for themselves with their UAV solutions.
However, level 5 autonomy is still a subject largely under research and has significant regulatory hurdles to cross. Even for TSAW Drones, its UAVs are currently operational with level 4 autonomy as regulatory compliances for level 5 UAVs are yet to be chalked out for the Indian skies. 
Nonetheless, TSAW Drones seems to be ahead of the curve with its technology that could see mass adoption as the Indian drone industry reaches a market size of $1.5 Bn to $1.9 Bn by 2026.
How TSAW Drones Is Changing The Delivery Game Despite Regulatory Hurdles
TSAW Drones is the acronym for Technology in Space and Aeroworks. Although the company was founded in 2019, its operations in the logistics space took off in November last year in Telangana.
Speaking with Inc42, the cofounder and CEO of TSAW Drones, Tiwari, said that the startup took two and half years to build technology and meet regulatory compliances, which ranged from operating level 5 autonomous drones to flying Beyond Visual Line of Sight (BVLOS) and getting a type certification for the same.
Currently, the Directorate General of Civil Aviation (DGCA) allows type certification (which is necessary to operate drones in India commercially) only for the ones that have Visual Line of Sight (VLOS) use cases. However, the startup's delivery drones come under the BVLOS category. As a result, TSAW Drones is currently conducting trials in collaboration with its clients.
In Telangana, the startup operates out of Nizamabad and connects around 26 small cities within a 50-km radius to cater to emergency medical supply needs. 
In January this year, the startup launched its operations in Kolkata on the intercity level. The startup then launched the Noida-Meerut route in May 2023 to cater to intercity delivery requirements.
Currently, TSAW Drones is working only in the delivery of medical supplies. It has partnered with online pharmacy startup Tata 1mg, Kanhaiya Life Care Medicine, and Medkaart, just to name a few.
Speaking with Inc42, Tiwari explained the operational process involved in utilising drones for delivery. He said, once an item is packed at a warehouse after an online order is received, its drones can be deployed to collect the package and transport it to the closest delivery location, also recognised as drone hubs.
However, this process entails a few steps. Before deploying a drone to deliver a payload, a warehouse executive is assigned to scan the QR code on the UAV and the package. Once the necessary approvals are obtained, the drone takes off and automatically identifies the delivery location and the nearest drone hub to the delivery location. 
The drone can track its path automatically and also inform operators if there is a need for any human intervention. Later, it automatically lands at the identified hub for the next stages of delivery.
Going forward, once level 5 autonomous UAVs get clearance to fly in the Indian skies, TSAW Drones aims to eliminate the need for warehouse executives to load and offload payloads. 
Meanwhile, TSAW Drones has also partnered with GIMS Hospital in Noida and is planning to set up a dedicated drone hub there. The idea is to be able to send drones to various remote locations in the country to deliver critical medical reports and medicines.
With zero failures on the ground, the startup claims to have delivered over 4,500 packages so far. The entire software stack which powers its drones has been built in-house by the startup.
According to Tiwari, the startup has seven versions of its two main models — Maruthi and Adarna. Among these, Adarna V2, Adarna Mini, and Maruthi 3.1 are the three models that have been deployed extensively by the startup.
While its Adarna drones are BVTOL models, the startup's Maruthi 3.1 is a multi-rotor drone, which comes with a 20 kg payload capacity, a range of 40 kms, and 60 minutes endurance. The startup's Maruthi models are yet to embrace the level 5 automation tech. 
Meanwhile, Adarna V2 comes with an 8 kg payload capacity with a range of 120 kms and endurance of 90 minutes, and Adarna Mini has a 2 kg payload capacity, 80 kms range and 60 minutes endurance.
TSAW Drones runs its drone operations under its subsidiary brand DRONECO.
En Route To Expand Capabilities
Within eight months of its operations, starting November 2022, TSAW Drones claims to have created a client base of eight to 10 companies, which are leveraging its drone capabilities to optimise their delivery verticals better and make them future-proof.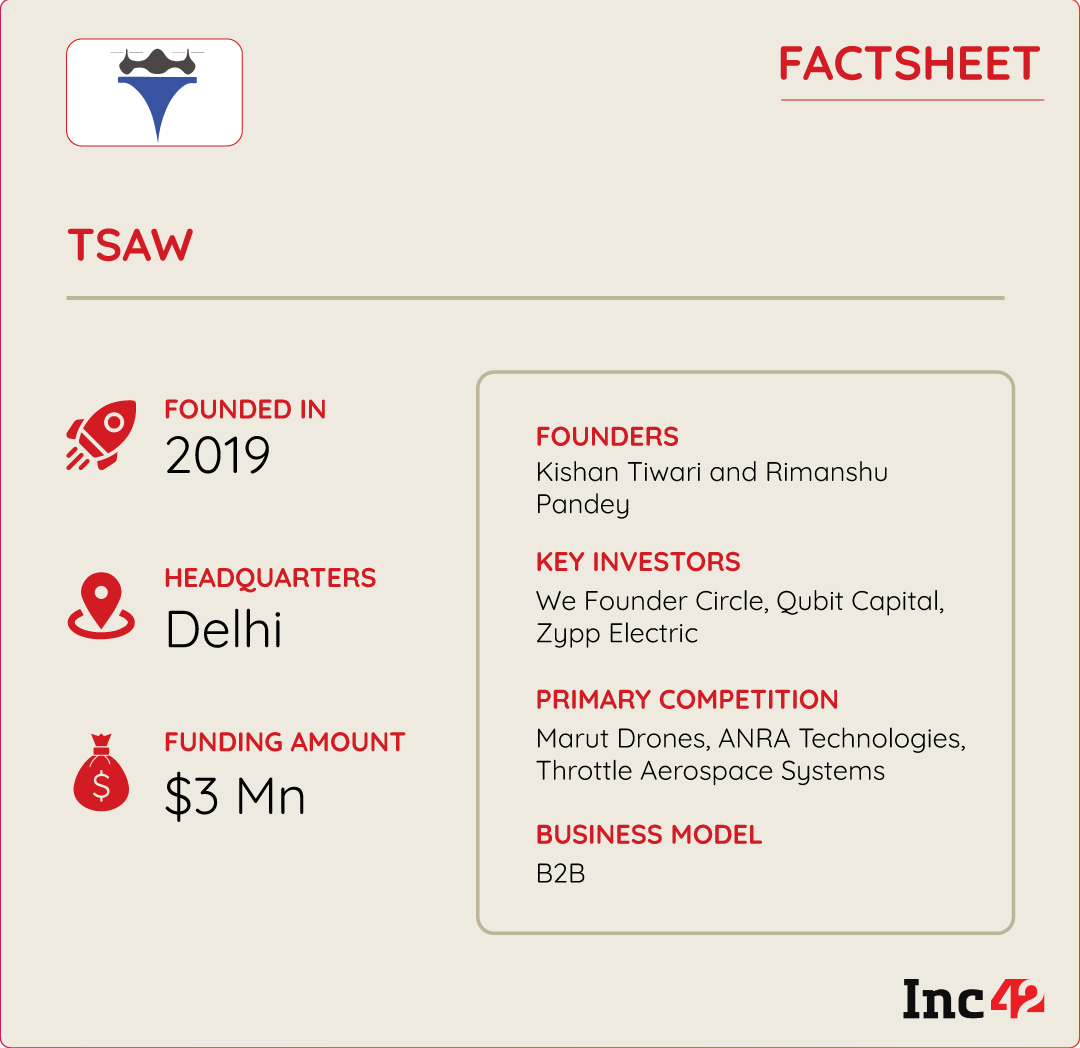 While the CEO did not disclose the revenue numbers, Tiwari seemed confident about gaining significant traction after receiving the type certificate from the DGCA.
Further, he said, the company is looking to onboard 30 to 35 by the end of FY24. The startup also aims to deploy more than 50 new drones by the end of the fiscal year.
According to Tiwari, the biggest opportunity for drones rests in the logistics space in the next five to six years.
Since its inception, the startup has raised $3 Mn in a seed round from the likes of We Founder Circle, Qubit Capital, Zypp Electric, and Chandigarh Angel Network, among others.
Further, the company is also in talks to raise another round of funding soon, however, the CEO has refrained from making any disclosures regarding the amount.
Moving on, the startup is currently spreading its wings under an acceleration programme of the Foundation for Innovation and Technology Transfer (FITT) at IIT Delhi, which is expected to give TSAW Drones a boost in the logistics space.
"In our industry, there is a serious need for continuous iteration of technology while we also need to ensure that the skies are safe. Therefore, to make these drones continuously operational in the market, we need exhaustive research and testing to be done on these drone models. That is the reason we planned to enrol ourselves under IIT Delhi's accelerator programme," Tiwari said.
With the help of IIT Delhi professors, TSAW Drones is working on enhancing its drone technology, building better supply chain models and optimising and designing routes for its delivery network for better use cases.
What's The Big Plan?
While TSAW Drones has so far focussed solely on the healthcare segment, it is now planning to expand its drone services offerings to mission-critical items for defence and other use cases like data centres.
Gradually, the startup also aims to foray into the agriculture sector. With operations scaling, TSAW Drones wants to expand its footprint in Southeast Asia and the Middle East and North Africa regions by FY25.
Currently, TSAW Drones manufactures only drone bodies and procures the remaining components from other third-party manufacturers. However, the startup designs all drone components in-house.
As BVLOS drones are expected to be the next most revolutionary logistics solutions, particularly for the medical industry, the startup is planning to establish a dedicated drone manufacturing unit either in Madhya Pradesh or the southern part of India.
According to a report, the global drone package delivery market is projected to reach $32.1 Bn by 2031, growing at a CAGR of 43.3% between 2022 and 2031. 
In the dronetech space, TSAW Drones competes with the likes of Marut Drones and ANRA Technologies in India and players like Wing and Zipline globally. 
Notably, the dronetech ecosystem is getting more mainstream with each passing day. With significant government support, these startups have started to look at the Indian bourses, and grabbing a lot of interest from retail investors. 
Last year, DroneAcharya saw a stellar debut at a 90% premium on the BSE SME platform. Now its shares are trading 80% above the listing price. 
Similarly, ideaForge is also on track for an expectedly good IPO. On the first day of the IPO launch this week,  the drone startup's public issue got oversubscribed. 
While regulatory concerns remain an overhang in the short term, market experts are betting big on these emerging tech startups. As of now, given the potential tailwinds propelling the sector, it would be interesting to see TSAW Drone emerging with its level 5 autonomous drone playbook.


[ad_2]

Source link