[ad_1]

Instagram's testing a new format for post metrics, which would display both share and comment counts, in addition to Likes (if you have them switched on) on each update in-stream.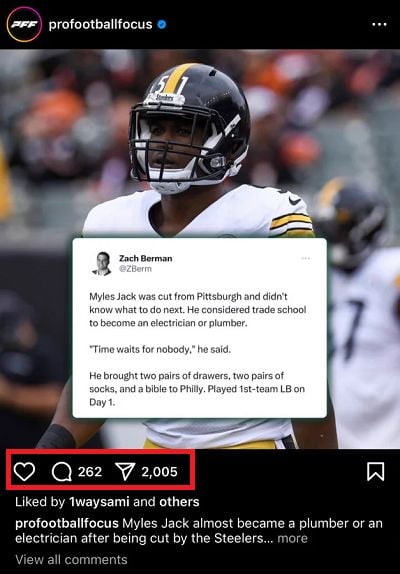 As you can see in this example, shared by Nick Alessi, the new format would include new counters of comments and shares, providing more context as to how people are interacting with the post at a glance.
Shares have become a much bigger focus for IG, as user engagement behaviors have shifted towards more enclosed interaction, as opposed to public posting.
As Instagram chief Adam Mosseri explained in July last year:
Friends post a lot more to stories and send a lot more DMs than they post to Feed. If you want to make sure you never miss a feed post from a friend, add them to your favorites and they'll show up at the top.

— Adam Mosseri (@mosseri) July 26, 2022
That's continued to be a key trend for the app, and in this context, it makes sense to put more focus on share counts, in order to highlight this specific action.
Maybe, by putting this stat front of mind, that'll help to encourage more users to do the same, a sort of peer pressure/FOMO approach, as in "everyone else is sharing this with their friends, maybe you should too".
Reply counts could also prompt more people to check out what's being said, and encourage more interaction based on each update.
The new indicators probably wouldn't have a major impact on user behaviors, but then again, those lower post metrics were influential enough for Instagram to remove Like counts entirely as part of various experiments back in 2021.
The logic, at least back then, was that Like counts sometimes ended up putting too much focus on the wrong aspects, with teen users, in particular, noting that Like counts became a tool for negative comparison, which led, at times, to harmful impacts.
As Instagram chief Adam Mosseri noted at the time:
"We don't want Instagram to be such a competition. We want it to be a place where people spend more of their energy connecting with the people that they love and the things that they care about."   
Not sure how adding more comparative metrics would align with that same ethos, but maybe Instagram views the more recent changes in user behaviors to be enough to justify including more engagement data, without these negative concerns.
Or it might just be more likely to drive engagement, even if it does become a competitive element.
It seems that Instagram's at least giving it a run, and seeing what happens, with various users reporting that the new format is appearing in their version of the app.
We asked Instagram for more info on the test, and we'll update this post if/when we hear back.


[ad_2]

Source link