[ad_1]

After initially previewing the coming feature at its Snap Partner Summit back in April, Snapchat has now launched its new 'After Dark' element, which will enable Snapchatters to post exclusive content for their friends after 8pm, which only those that have also posted on their Stories will be able to access.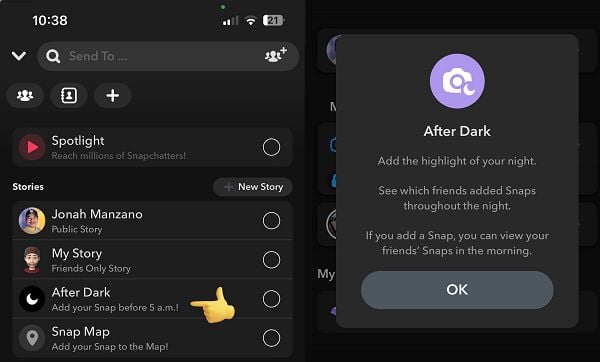 As you can see in this example, shared by Jonah Manzano, 'After Dark' will appear as a separate Snap Story, and will be a collection of Snaps from your friends overnight.
As per the description, in the morning, you'll be able to check in on the Snaps that your friends have shared, so long as you've shared one back. That forms a sort of interactive highlight reel of what all of your connections were up to the night before, which could be a good way to boost engagement among younger users.
Because I'm old, and all I'd be posting is the same Snap of my pillow, every single night.
But for those with more lively nightlife, it could act as a personalized picture board from nightclubs and bars, showing all the cool things that they got up to in the evening.
I can see it becoming a hit, while it also leans into the kind of BeReal active sharing approach, that encourages less polished, more in-the-moment posting, which can help to build stronger relationships through shared experiences.
I doubt it'll become a major element of the app, but it's another engagement option that'll likely help to make Snap a more critical connector for young users.
The new option is being rolled out to all users from this week.


[ad_2]

Source link